Companies
Inboard: The Final Stretch for M1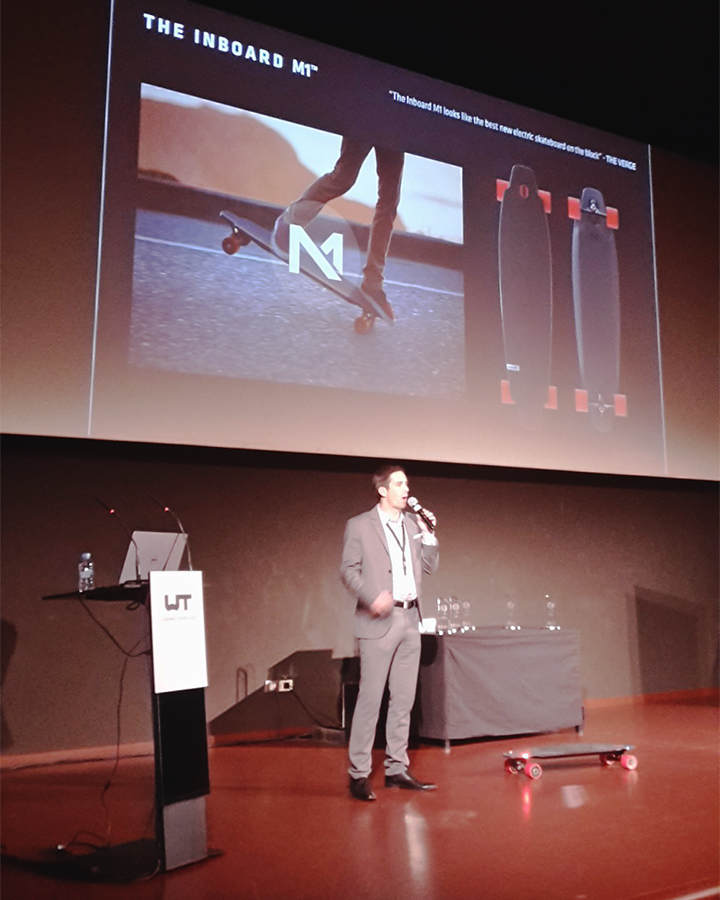 (Source: Inboard blog)
March 25, 2016 — Santa Cruz, CA
(Photo above: Inboard CEO, Ryan Evans, on stage in Barcelona presenting at at the 2016 Innovation World Cup.)
February might be the shortest month of the year, but you wouldn't be able to tell that based on the laundry list of developments and milestones we've achieved.
Since our last update, we have:
Built and continued testing on a new pre-production M1™
Presented at the 2016 Innovation World Cup in Barcelona, Spain
Sent Brian on his third trip to Asia to coordinate with our suppliers
Successfully enabled bluetooth M1 throttle control via the Vision™ Mobile iOS App
Hired a new Mechanical Engineer: Jack Bell
Secured additional work-space for receiving parts and assembling boards
Redesigned LED lenses for easier manufacturing & replacement
Revised the battery enclosure for increased water resistance rating
Continued motor controller firmware development and testing
Purchased our second Form Labs 3D Printer
Introducing Our Latest M1™
Performance testing has continued to roll forward on a brand new pre-production M1. Up to this point, each of our prototype M1 models have held components at various stages of development. With this current build, we combined the latest version of every component into one build, including the PowerShift Battery, battery enclosure and motor controller. This is the closest to a final production board we've ever built and it's assembled with all Inboard-engineered and designed parts… and the performance? It's outstanding! Check out the video below for initial demonstrations of acceleration, braking and hill climbing.
Brian's Trip to Asia & New Decks
Inboard Product Director Brian Eiseman completed his third trip to Asia this month to further coordinate, spot check, and obtain samples from our suppliers. During his visit Brian was able to visit with our deck manufacturing facility and pick up some fresh deck samples!
Continue reading article here: http://www.inboardskate.com/blog/2016/3/18/the-final-s
###
Tagged Inboard Technology