Events
Q&A: Zaq Roberts, Invention Literacy, and the MINI Maker Faire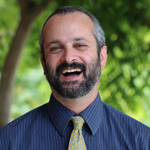 By Sara Isenberg
Founder, Publisher, Editor-in-Chief, Santa Cruz Tech Beat
March 10, 2016 — Santa Cruz, CA
"One part Burning Man, one part County Fair, one part CES, the Maker Faire is a family-friendly showcase of invention, creativity and resourcefulness, and a celebration of the Maker Movement."
You may already know that the first Santa Cruz MINI Maker Faire is set for Saturday, April 16,


10am-6pm, at Gateway School. I had the opportunity to catch up with Zaq Roberts, the person behind this event, to find out what inspired him to pull this event together, and learn some of what's planned for the day.
SCTB: What is a Maker Faire and what is a MINI Maker Faire?
ZR: One part Burning Man, one part County Fair, one part CES, the Maker Faire is a family-friendly showcase of invention, creativity and resourcefulness, and a celebration of the Maker Movement. It's a place where people show what they are making, and share what they are learning. Makers range from tech enthusiasts to crafters to homesteaders to scientists to garage tinkerers. They are of all ages and backgrounds. The original Maker Faire event was held in San Mateo, CA in 2005; in 2015 the tenth annual show had over 1100 makers and 145,000 people in attendance. So it's become incredibly popular!
A Mini Maker Faire is a community-driven, independently organized Maker Faire that allows creators and tinkerers to showcase their work to the community, while the public enjoys hands-on, interactive experiences and connects with like-minded people. Maker Faire supports the ideas of passionate innovation, collaboration and joyful connection with others, and hands-on doing as a way of experiencing the world, and so it helps produce over 120 of these Mini Maker Faires around the world.
SCTB: What inspired you to bring the MMF here to Santa Cruz?
ZR: The Maker Movement is huge in education. In some ways, this is just a rebranding of concepts that stretch back to the beginning of Progressive education in America 100 years ago – the idea that the best education is experiential and immersive, and that it combines working with both head and hands in pursuit of something meaningful to the heart.
I love the twin ideas of agency and problem solving that the Maker movement emphasizes. Agency simply means that anybody can try something; it's the belief in your ability to do. Can kids learn to code and program? Of course! And also to cook, wire circuits, rebuild engines, play in bands, throw pottery, and so much more. From technical to artistic, everyone has the capacity to make and create. And as you work through those creative processes, you learn about problem solving. Because almost always, you encounter some unexpected challenge along the way that your original design or approach didn't factor in, and so you've got to make changes and iterate.
I'm the Head of School at Gateway School, and we have a fantastic Maker space called the Discovery Center, where students use high and low tech tools including a 3D printer, laser cutter, and squishy circuits to gain a deeper understanding and mastery over their world. Students are given opportunities to become designers and inventors, explore multimedia technologies, and collaborate in a safe and fun environment. And I wanted to find a way to promote that emphasis out in the broader community. This is something we also do with social-emotional learning – for example, we've hosted the Girl's Leadership Institute for the last two years, running workshops for the community. And Santa Cruz has a tremendous Maker culture too! There are people here doing amazing things, from building guitars and skateboards to sequencing the human genome and building tools to manage big data.  So it was a natural fit in terms of the local community and our school's emphasis.
SCTB: Are you a maker in your own life? What are your favorite things to make?
Well I mostly like to make music. I grew up playing the French Horn, and for the last twenty-plus years I've been playing guitar – mostly blues rock, funk and folk. I've also been playing mandolin for the last ten years, and about two years ago I started to work on the banjo. I love being able to play different instruments and actually would like to start building my own instruments at some point.
I also write, both poetry and nonfiction. I've been writing since I was a child, and to get my undergraduate degree in English I completed a double emphasis in Creative Writing, both fiction and poetry. I tried to write a novel but it broke in the middle, which is okay.
I've built two websites in my life, and actually my ability to write raw HTML code helped me get a job as a teacher in 2000, because I could build a middle school homework website from scratch! It's funny to think about now. The second one was my wife's business website two years ago, and the new graphic tools are just incredible to use. And I love learning to use new technology; just last month I made my first video on iMovie, which reminded me of the very first movie I ever made in 10th grade for a school project.
I worked in the trades before going into education, so I've done a lot of carpentry, electrical, plumbing, drywall….but I am definitely better at the demo than the building part of that. The week before my wedding, I needed some way to manage my nervous energy, so I ripped out the concrete walkway from the front steps to the sidewalk and put in a curving flagstone path.
My oldest daughter tells me that I like to make plans, and that's true. I do a LOT of planning, and I guess I'm pretty good at it.
SCTB: What are some of the key focus areas for the MMF in Santa Cruz?
ZR: The theme of the faire is Invention Literacy, an interdisciplinary skillset that combines creativity (the ability to bring one's ideas into reality), entrepreneurship (perceiving an opportunity), problem solving (defining a problem, identifying the cause, determining solutions, and implementing a preferred solution), technological literacy (using technology effectively in different ways), and a variety of other skills to make, iterate, tinker and create.
We're being broadly inclusive of all strands of making, so we'll have science and engineering and programming exhibits, and we'll have arts and crafts with a heavy focus on interactive creation, and we'll have homesteading and commercial making where people are really trying to be entrepreneurs and scale up their manufacturing. And we'll have a stage of performances presenting music from around the world — we've had Makers apply who are Celtic musicians, dancers from Zimbabwae, bluegrass musicians, and much more.
SCTB: What's the criteria for having a booth/table at this event?
ZR: We definitely have a preference for hands-on activities that attendees can interact with and create, but there's also room for people who want to make presentations or lead a demonstration or workshop. And we also will have some limited spots for commercial vendors, because we've had about a dozen jewelery makers apply and there's some really incredible work being done locally in that regard.
The full application to present as a Maker is online at the Call for Makers.
SCTB: What kinds of individuals/companies would you like to encourage to participate as vendors/showing/teaching/makers?
We've had over 50 Makers apply thus far, and we've just announced the first round of acceptances! Here are the exhibitors who are confirmed thus far:
Jill Sanders of Saori Santa Cruz will have hands-on weaving experiences on six different looms.
CSA Aquaponics will be exhibiting and teach how to grow organic food sustainably through aquaponic food systems.
Sarah Negara of Mission College and the College of San Mateo will lead a workshop on creative dance and choreography.
Payson McNett of the Visual Applied and Performing Arts Department at Cabrillo College will have an 8 foot working replica of a skateboard, and be set up with 3D printer and vinyl cutter for attendees to design and create unique vinyl stickers and key chains.
Shawn Pace from the UCSC Open Labs will be bringing the Art Crawler, a mobile digital design lab and fabrication platform built from a repurposed military machine truck.
AGRXN Photography offers a rare opportunity to observe and participate in the "wet plate" photographic process from the 19th century.
Embark Labs will present Binary Bell, a hands-on cross-curricular activity where attendees apply their knowledge of binary code in a higher-order thinking exercise using music.
Santa Cruz Idea Fab Labs will be bringing by the Interactive Sandbox, a hands-on exhibit using a Kinect 3D camera and projector to create a virtual and user-defined topography. The projected topographic lines reform themselves as the user moves sand around in the box, simulating mountains and water
Victoria Hollis will be setting up Kinect the Dots, a 4'x6' matrix of 1900 LED bulbs that uses Microsoft kinect to detect and project shapes and motion.
Noted local artist Ed Martinez will involve participants in creating a collaborative large scale work during the event.
Sandy Imperio of the Santa Cruz Public Libraries will be leading an engineering experience involving Legos and engines.
15 year old Sasha Jaffrove has participated in the Young Maker program at the Bay Area Maker Faire for the last three years, and will demonstrate the third prototype of the CaveMapper project she is building.
Lee Marshall will running an interactive exhibit showing off the incredibly rigid but light hand saws of Knew Concepts.
Go back in time with Computing by Steam! Featured in Make Magazine and at the Maker Faire, this exhibit will demonstrate working models of Charles Babbage's Difference Engines No.1 & No.2.
Lucy Hoskings will have the Dragon of Eden on display, a seven headed dragon art car that spits fire. The art car will be open for tours of the bus-length vehicle and its glass globe of a cockpit.
We are currently a little short on the homesteading thread so we'd love to get more Makers who are doing cool things like making honey or candles, or pickling and jamming. We're also working on getting a homebrew demonstration!
SCTB: Wow, great list of confirmed-so-far exhibitors! Santa Cruz has many homebrewers. Expect to hear from them soon. Is there anything else you'd like locals to know about this event?
ZR: We need volunteers! Our hope is that we get 80-100 volunteers to help us put on this event. Volunteers are asked to serve a 3 hour shift, and in exchange they get free admission to the Faire, and a special Volunteer t-shirt, and are automatically part of a special giveaway that we'll have during the Volunteer orientation. We hope people go to the website and fill out the volunteer registration form, or email volunteers@makerfairesantacruz.com.
Also, we've secured over 600 parking spots for free parking at the far end of Delaware Street, and we'll be running free shuttles to the Faire. We also have on-site bike valet parking and we hope people take advantage of that, so that we manage the impact on the immediate neighborhood of the school.
Learn more at http://www.makerfairesantacruz.com/
###
If you wish to republish this article, please follow our Terms of Use.
###
Tagged Santa Cruz Mini Maker Faire