Events
Calling All Makers! Santa Cruz Mini Maker Faire Planned for April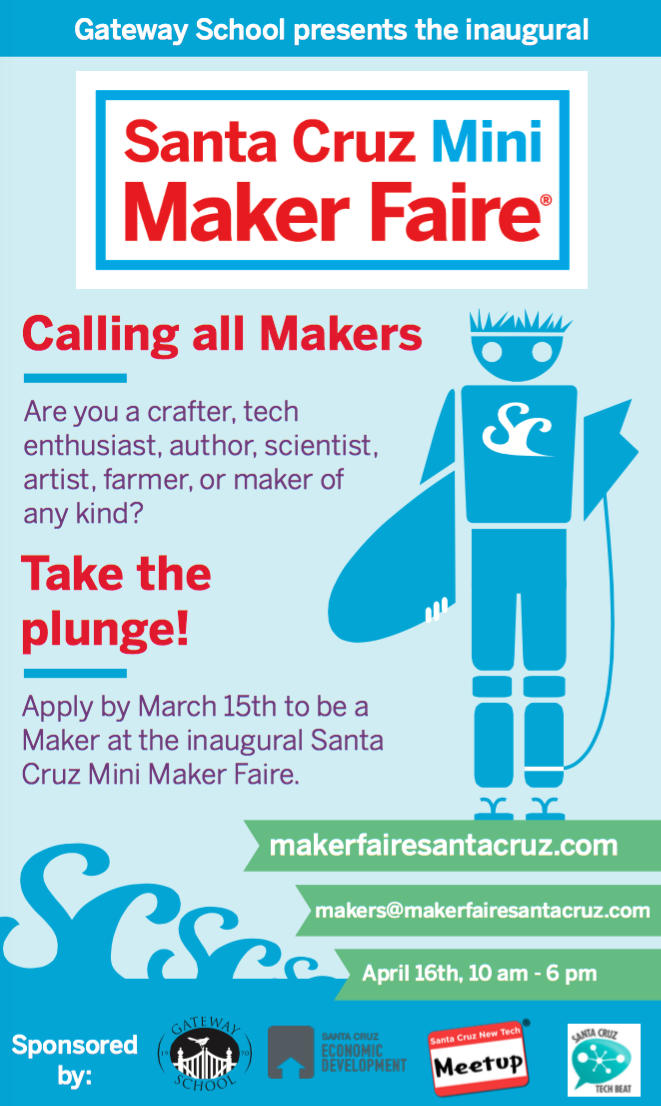 By Zachary Roberts
Producer, Santa Cruz Mini Maker Faire
Special to Santa Cruz Tech Beat
January 28, 2016 — Santa Cruz, CA
We are thrilled to announce a CALL FOR MAKERS for the inaugural Santa Cruz Mini Maker Faire, which will be held April 16, 2016, from 10am-6pm at Gateway School in Santa Cruz.
At the Maker Faire, you might program a robot, pilot a drone around an obstacle course, or design a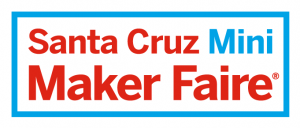 compressed-air rocket. Of course, you also might learn to shear sheep, harvest honey, and churn butter. Or you may wind up attending workshops on how to install pickups into guitars, shape a surfboard, and use an arc welder.
Burning Man + CES + County Fair = Maker Faire
One part Burning Man (think, fire!), one part CES trade show, and one part county fair, the Maker Faire is an opportunity for inventors, programmers, engineers, tinkerers, crafters, hobbyists, authors, artists, students and commercial exhibitors to come together in celebration of innovation and DIY inventiveness.
As the Maker Faire website says, "Maker Faire is primarily designed to be forward-looking, showcasing makers who are exploring new forms and new technologies. But it's not just for the novel in technical fields; Maker Faire features innovation and experimentation across the spectrum of science, engineering, art, performance and craft."
One thing that we love about the Maker Faire is that the installations are 100% accessible. In fact, they need to be interactive and hands-on. Participants need to have made their project themselves, so there is also the element of being able to speak directly to the maker. You might see something and think, I want to do that at home, and the person showing you can explain right then and there how to do it.
The initial Maker Faire was in 2005 in San Mateo, and is now a three-day extravaganza of 150,000 people and 1000 exhibitors. The movement has grown to include faires in 150 cities worldwide; there was even a Maker Faire held at the White House last year. For more information, take a look at the main Maker Faire website.
Maker Faires are hyper-local events that focus on the local community.
Santa Cruz County is a community of creative, free thinkers who enjoy the natural beauty of the local environment, and support local business. We're excited to offer an opportunity to bring the vibrant technology and innovation ecosystem of our county into conversation with the incredible makers working in arts, crafts, performance and other fields. Several local organizations, such as the New Tech Meetup and the Office of Economic Development, have joined up as sponsors for this event.
Chances are, you're already a Maker. If you've ever melted crayons in the toaster oven to form new shapes and colors, or built a fairy house out of leaves and twigs while walking in the park, you're a maker. If you're reading this in Santa Cruz Tech Beat, more likely you're an entrepreneur or innovator designing a product to disrupt an industry status quo!
Makers are creators of art, technology and culture.
The point is, anyone can be a maker. And there are all sorts of them— makers are creators of art, technology and culture: gardeners, cooks, engineers, musicians, performers, artists.  You can make hot pepper sauce, tie dye corduroy, a fire shooting glove, a remote control giraffe, or a TV that only plays forest fires.  Projects can be light hearted and whimsical, or they can be life-changing.
Theme: Invention Literacy
The theme of this year's Santa Cruz Mini Maker Faire is Invention Literacy — an interdisciplinary skillset that combines creativity (the ability to bring one's ideas into reality), entrepreneurship (perceiving an opportunity), problem solving (defining a problem, identifying the cause, determining solutions, and implementing a preferred solution), and technological literacy (using technology effectively in different ways).
Submit your Proposal to Exhibit
Selection for exhibiting at the Santa Cruz Mini Maker Faire is a curated process. We expect around 2000 people to attend this event, which means exhibitors will have a great audience for their work. Submit your Proposal to Exhibit, or register to volunteer at the event, at the Santa Cruz Mini Maker Faire website.
See you on April 16th!
###
If you wish to republish this article, please follow our Terms of Use.
###
Tagged Santa Cruz Mini Maker Faire