Companies
Q&A: David Van Brink on Metareal's Preview at GDC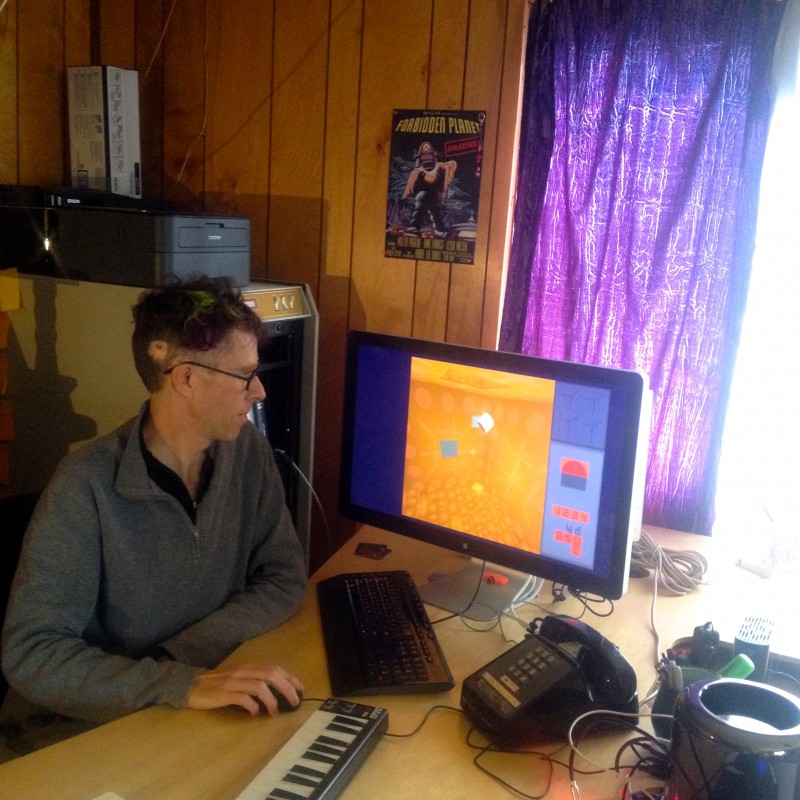 By Sara Isenberg
Founder, Publisher, Editor-in-Chief, Santa Cruz Tech Beat
March 10, 2016 — Santa Cruz, CA
(Photo above: David Van Brink, working at home in his natural habitat, will be previewing his game Metareal at GDC in San Francisco, March 14-16. Contributed)
"There's no action and you can't die."
Santa Cruz software engineer and independent game developer David Van Brink will be previewing his new game, Metareal, at the Game Developers Conference (GDC) being held at the Moscone Center in San Francisco, March 14-18, 2016.
The Game Developers Conference (GDC) is the world's largest and longest-running professionals-only game  industry event. GDC is a highly competitive venue, and Van Brink is pleased to be part of the exclusive Indie Megabooth.
Here's the scoop from Van Brink:
SCTB: What's Metareal?
DVB: It's a video game. It's a large abstract puzzle with many rooms and elements. There's no action and you can't die. I think it will take a player about 10 hours of playing to see all of it, to "solve" the game. I should mention, I wrote the original version of Metareal in 1984. It was all hand-written 6502 assembly language.
SCTB: How is Metareal-1984 different from Metareal-2016?
DVB: They're pretty similar! Although the old one was 2D, it took place in Flatland, basically. The new one looks a little nicer and takes place in Spaceland. Also, the new game is a lot larger.
But perhaps more interestingly… well, given the long span of time, at this point I actually know what the game was about. When I wrote it in 1984, I was full of cleverness and imagination and energy. Now I have far greater technical mastery and academic understanding. So it's a fairly close collaboration with my younger self.
SCTB: What happened in between?
DVB: I'll give a quick professional timeline… I worked in software, but not in games. I worked for Apple in the 90's, and was one of the inventors of QuickTime. I did quite a lot of work in MIDI and audio synthesis, and along the way had the privilege to earn my master's degree advised by UCSC's Kevin Karplus. I was lucky enough to work for Altera (a semiconductor company, the real "Silicon Valley" deal) doing embedded software and EDA tools at their Santa Cruz office downtown for a time, that was heavenly. And most recently for Skype, which became part of Microsoft, doing web scale services.
On the side, I've done art for Burning Man and such, but this is my return to truly creative coding.
SCTB: Do you have a day job?
DVB: For now, happily, this is my day job! I have, as they say, "gone indie."
My partner and I planned, calculated, and saved money for the last few years in preparation for this self-funded sabbatical, or "self employment" if you prefer. To be honest, given the salaries at tech companies these days, this is fairly doable if you're willing to cut down on your sushi expenses a little (by which I mean, a lot).
Oh! I also work a weekly volunteer shift at our local Maker Space, the Santa Cruz Idea Fab Labs.
SCTB: What's the significance of showing at GDC?
DVB: GDC is a huge technical event, the attendees are mostly fellow game makers. A team called Indie Megabooth curates a showcase of invited independent games, available to experience during the entire conference. So I'm thrilled that they chose Metareal to be one of their 15 selections this year. I'm certainly looking forward to getting some "pro" feedback from fellow developers, and making some connections too. Part of the deal is I get a conference pass, which frankly would have been unaffordable to me as an individual just now.
SCTB: If someone is interested in learning more… ?
DVB: You can follow development on twitter @metarealworld. Also, the Steam Greenlight campaign (it's a gamer thing) will go live at the start of GDC. Find it by the name "Metareal" on Steam or linked off the website at http://metareal.net .
SCTB: What else?
DVB: Here's some Technical Trivia:
Team size: just me, for game design, graphics, sound, and code
Development platform: I use a Mac Pro running Xcode, and an old Dell Optiplex with Visual Studio
Target platform: Macintosh and Windows for now
I code at home, Caffe Bene, Caffe Pergolesi, the downtown public library. Also, at Crystal Bridges Museum in Arkansas
Game engine: I wrote my own engine using C++, OpenGL, and SDL2
Audio engine: I wrote my own synthesis engine controlled by a modified MIDI protocol.
Your own engines, you say: Yeah, I'm playing this on the "hard" setting.
SCTB: Have fun at GDC.

###
If you wish to republish this article, please follow our Terms of Use.
###
Tagged game developers, Metareal