Companies
GamesBeat 2015 Snares Graeme Devine as Speaker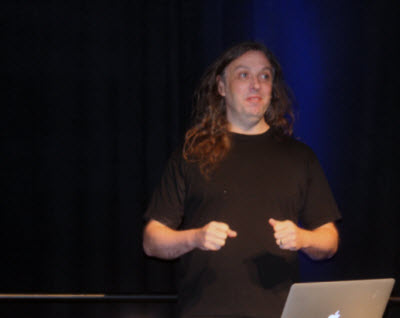 By Dean Takashashi
VentureBeat
(Photo above: Graeme Devine will talk at GamesBeat 2015 at the Grand Hyatt Union Square on October 12 and 13 in San Francisco. Credit: Dean Takahashi)
September 9, 2015 — San Francisco, CA
Our latest speaker, Graeme Devine looks like a character from Game of Thrones. The chief creative officer and vice president of games at Magic Leap is one more among the cast of characters from gaming who will talk at our GamesBeat 2015 conference at the Grand Hyatt Union Square on October 12 and October 13 in San Francisco. You can sign up for it now.
We'd love for you to come, because winter is coming. Gaming has many kingdoms: mobile, console, PC online, geographic, and more. In each of these powerful realms, companies are fighting to grow fast, to come out on top — and to cross boundaries to rule more than one empire….
<skipping ahead>
Devine has had a storied career in games. At Magic Leap in Florida, he is helping to launch new games that work with the company's augmented-reality glasses, which can overlay virtual animations on top of what you see in the real world. Luminaries such as Tim Sweeney, CEO of Epic Games, say that Magic Leap is doing things that he didn't think were possible. Devine describes Magic Leap's technology, Cinematic Reality, as a "rocket ship for the mind."
Devine has worked on, programmed, and designed games such as The 7th Guest, 11th Hour, Quake 3, Doom 3, Age of Empires 3, various ports of Pole Position, and Ballblazer. He also worked at Apple during the rise of the iPhone as one of the company's iPhone gaming technologists. He is head of GRL Games, and worked at places such as Delicious Monster Software, Microsoft, Ensemble Studios, id Software, Trilobyte, Virgin Games, and Mastertronic.
Read the full article here: http://venturebeat.com/2015/09/01/gamesbeat-2015-snares-magic-leaps-graeme-devine-as-a-new-speaker/
###
Tagged game developers, Gamesbeat 2015, Graeme Devine, Magic Leap