Featured
ACE Program marks 30 years of academic support for STEM students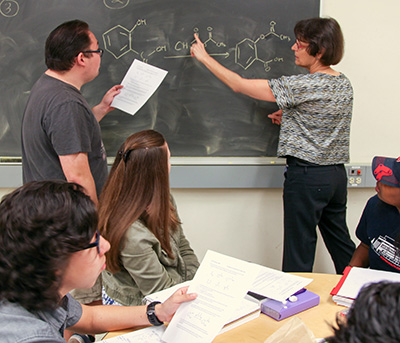 By Tim Stephens
UC Santa Cruz
February 17, 2016 — Santa Cruz, CA
(Photo above: ACE Program director Nancy Cox-Konopelski, at blackboard, works with students in an organic chemistry session. Credit: C. Laguttuta)
Academic Excellence Program's 30th Anniversary celebration and reunion will be held on Saturday, April 30, during Alumni Weekend 2016 at UCSC
For 30 years, the Academic Excellence (ACE) Program at UC Santa Cruz has been helping students succeed in their classes and graduate with degrees in science, technology, engineering, and math (STEM) fields. Nancy Cox-Konopelski has been with the program for 27 of those 30 years, serving as director for the past 18 years.
"I've seen a lot of students move on to become the leaders that we expect them to become," she said. "Our mission is to increase the diversity of those who choose math- and science-intensive majors, with the hope that the faces of tomorrow's STEM leaders will reflect the faces of our nation as a whole."
Nationally, only 40 percent of students who start college expressing an interest in STEM majors actually graduate with STEM degrees. Students who participate in the ACE program at UC Santa Cruz persist and graduate in their STEM majors at a much better rate. They also earn more A and B grades and fewer non-passing grades in ACE-supported courses than their matched peers.
Group study
At the core of the ACE Program are collaborative problem-solving sessions that supplement the introductory science and math courses so many students struggle with in their freshman and sophomore years. The sessions meet twice a week and provide a group study environment where students learn by working together, with guidance from ACE professional and student staff members.
Continue reading article here: http://news.ucsc.edu/2016/02/ace-program.html
Tagged STEM, UC Santa Cruz