Companies
New Regional Internship Portal Announced: "The Internship is the New Interview"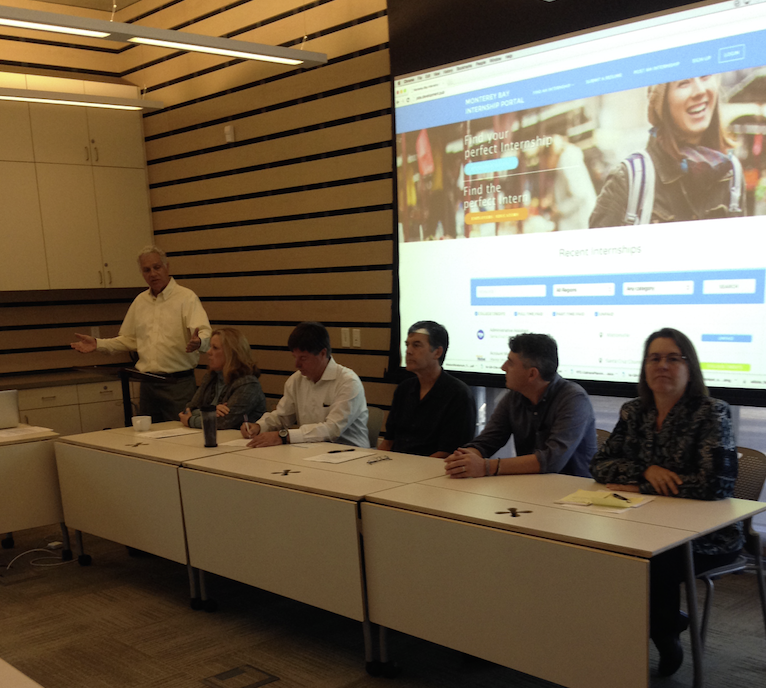 By Sara Isenberg
Founder, Publisher, Editor-in-Chief, Santa Cruz Tech Beat
(Photo above: Lance Linares,  CEO of Community Foundation Santa Cruz County, gives an overview of the new Monterey Bay Internship Portal. Left to right: Linares; Dr. Laurel Jones, President of Cabrillo College; Casey Beyer, Executive Director of Santa Cruz County Business Council; Bud Colligan, Co-chair of Monterey Bay Economic Partnership; Matt Weis, Program Coordinator at Work Based Learning; Barbara Silverthorne, Director of UCSC's Career Center)
October 22, 2015 — Santa Cruz, CA
New one-stop shopping regional internship portal is a partnership between Monterey Bay philanthropy, education, and business.
The Community Foundation of Santa Cruz County has contributed $30K to kick off the Monterey Bay Internship Portal, a new website that will allow college students to search and find internships in the Monterey Bay region, and enable businesses and public sector agencies to post openings and find local candidates. The portal's services will be free on both sides.
Project partners are:
Community Foundation of Santa Cruz County
Santa Cruz County Business Council
Cabrillo College
UC Santa Cruz
Monterey Bay Economic Partnership (MBEP)
According to Barbara Silverthorne, Director of UCSC's Career Center, "Internships are an important part of the undergraduate experience. The internship is the new interview."
"Keeping the brain trust here is a high priority," said Lance Linares, CEO of Community Foundation Santa Cruz County.
The portal is "a way to train-up future employees," said Dr. Laurel Jones, President of Cabrillo College.
The website portal, currently in development, is being designed and developed by Santa Cruz-based Iversen Design, and is based on the WordPress platform. Iversen Design was selected after the partners developed an RFP that was circulated among local web developers.
Jordan Iversen, CEO and lead designer, said "Early on Robert Singleton was appointed as the lead contact to act as the liaison between Iversen Design and the partners that were making decisions on requirements and feature sets. This has helped to limit confusion." He also added, "WordPress was a pretty easy decision as it powers over 20% of all sites online and is the most actively maintained and updated open source platform on the market currently."
The website is scheduled to go live in January 2016.The URL has not been announced.
###
If you wish to republish this article, please follow our Terms of Use.
###
Tagged Cabrillo College, Community Foundation Santa Cruz County, MBEP, Monterey Bay Economic Partnership, Santa Cruz County Business Council, UC Santa Cruz