Events
Digital NEST Opens New Watsonville Tech Training Center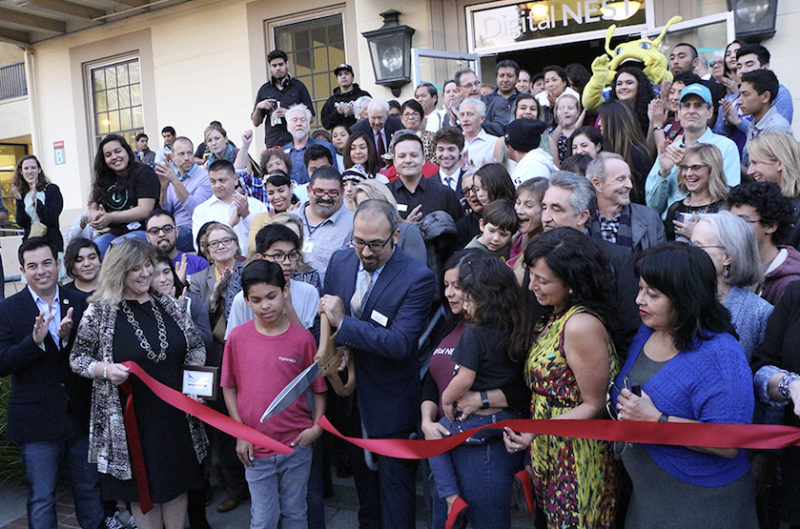 By Jan Janes
Special to Santa Cruz Tech Beat
February 12, 2016 — Watsonville, CA
(Photo above: Shaz Roth, CEO with the Pájaro Valley Chamber of Commerce & Agriculture, welcomed Digital NEST to downtown Watsonville as Executive Director Jacob Martinez cut the ribbon. Credit: Jan Janes Media)
A festive air floated down Union Street Thursday evening as more than 100 community members gathered to celebrate Digital NEST's opening in downtown Watsonville.
The NEST (Nurturing Entrepreneurial Skills with Technology) outgrew its original location within 15 months after expanding to more than 400 students. The program offers technology software, equipment and training, along with entrepreneurship opportunities, to youth and young adults 12-24.
A poignant memorial
Before the official ribbon cutting on the outside steps, Digital NEST Executive Director Jacob Martinez invited the parents of his first student to cut a smaller red ribbon at a classroom doorway.
"Daisy was literally the first person who walked through the class doors," said Martinez, of the Girls in Technology program he launched ten years ago. "I could always call on her, she was always there to support other young women, girls coming through." Daisy went on to study computer technology in college but died, tragically, as a pedestrian in an auto accident before her first final exam.
"We knew we wanted to have a piece of Daisy as part of the NEST, and the classrooms in every center that we open will be called Daisy," said Martinez.
"This is for the youth of Watsonville"
With funding from a community angel, a small core of donors and the David and Lucille Packard Foundation, Digital NEST started in a few rooms on the second floor of a building on Aspen Drive. Despite being off the regular transit routes and beyond walking distance from the high school, student membership grew rapidly.
Watsonville Mayor Felipe Hernandez presented a city proclamation which outlined the vision Martinez worked to fulfill by launching Digital NEST. "It was all too common to see young people huddling outside locked school buildings in Watsonville, trying to complete schoolwork, apply for jobs and access the social networking opportunities enjoyed by their peers," said Hernandez.
Adalante!
Shaz Roth, CEO, Pájaro Valley Chamber of Commerce and Agriculture, said, "This could not be a more perfect location, phenomenal location for Digital NEST," thanking the community for turning out to celebrate. "We thank you for all that you are doing for the youth of our community, and we just can't wait to see you grow."
Dr. Laurel Jones, President of Cabrillo College, thanked the collaborative team that worked to create a learning environment with peer coaching, a pathway to employment and a great place to hang with friends and learn. "The partnership with Cabrillo is going to be wonderful," she said, expressing gratitude for lessons the NEST can teach an institution of higher education. "I am humbled by your gifts of spirit, drive and outreach."
$20K vitality grant for ag-tech, focused on job creation
Rob Morse, senior manager with PG&E, presented a $20K check to Digital NEST, one of ten economic vitality grants the company bestowed in 2015. "This organization makes a real difference in the community, builds a skilled workforce that can effectively compete in the job market that's out there right now," he said.
"The concept of an ag-tech application development boot camp not only helps the local farming community, it also provides the skills needed to participate in this high tech economy," said Morse. Digital NEST was one of 200 applicants to the grant program.
A representative from State Senator Bill Monning's office presented a certificate commemorating the downtown opening.
Students and their families circulated on both levels of the remodeled building, many signing up as members. Upstairs, video instructors explained the equipment, training and project opportunities available to students. Downstairs, students socialized and shared thoughts about upcoming projects.
Digital NEST is located in the old Watsonville Post Office building, and the renovation retained many of the architectural features while bringing in 21st century tools and technology.
Classes in the new location begin February 15. The NEST is located in Building B on the Cabrillo College satellite campus at 318 Union Street, Watsonville. For more information on membership sign up, classes and community involvement visit www.digitalnest.org.
###
Jan Janes, Communications Director, Web Publisher, Television & Radio Producer, Photojournalist, Social Media Architect, can be reached on LinkedIn.
###
If you wish to republish this article, please follow our Terms of Use.
###
Tagged Digital Nest