Companies
Watershed: Santa Cruz Tech Breaks Out, Panel Discussion Jan 27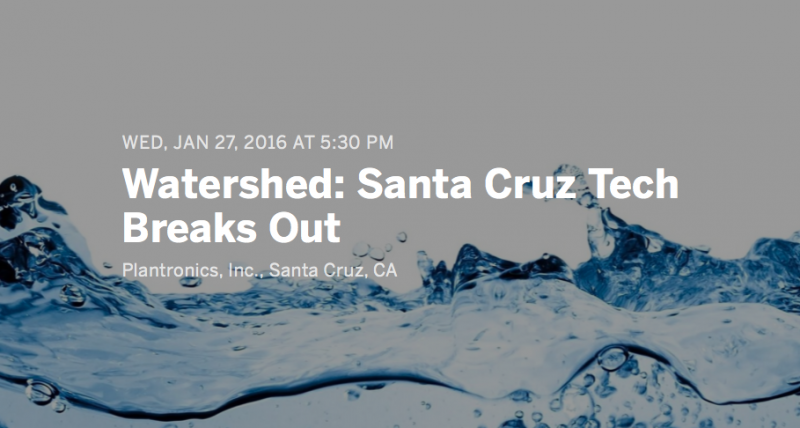 (Contributed)
January 7, 2016 — Santa Cruz, CA
Santa Cruz is no longer up and coming. We've arrived.
The public is invited to an evening of networking and a moderated panel discussion, profiling engineers, executives, founders and companies who are currently making their mark on the Santa Cruz tech community. Santa Cruz tech is having a watershed moment! Santa Cruz is no longer "up and coming," but here and embracing its own identity adjacent to the action in the valley. Our panelists will share their stories and experiences from different fields within the industry. Afterwards, we'll open up the floor for a Q&A session. Attendees will have the opportunity to connect with others interested in this topic.
Hilary Bryant, one the event organizers and CMO at Calliope said, "We have put together an exciting panel of speakers who are leaders in their industry, and we will start a fresh conversation about all the incredible things happening in Santa Cruz technology and the entrepreneurial community. Santa Cruz is a destination for natural resources, culture, education and entertainment. It's a community full of creative, talented and driven people who know how to both work and play hard. We have a top-notch university in UC Santa Cruz, generating commercially relevant technology and thought leadership. There are a tremendous number of businesses — ranging from start-ups like Calliope Waterworks to a Fortune 1000 company like Plantronics, Inc. — that are building new technology and are committed to being headquartered in Santa Cruz because we have a bright and innovative environment that is different from Silicon Valley or San Francisco. This is a great place to live and a great place to do business."
Event
Watershed: Santa Cruz Tech Breaks Out
Wed, January 27, 2016
5:30pm
Plantronics, 333 Encinal Street, Santa Cruz
Tickets: $11.54 (early bird: $6.27)
Schedule
5:30 – 6:00pm  Networking Reception
6:00 – 6:15pm  Announcements and Introductions
6:15 – 7:15pm  Panel Discussion
7:15 – 8:00 Q & A and Wrap-Up Networking
Panelists:
Marilyn Mesereau: CMO, Plantronics, Inc.
Ann Pace: Director of Research Development & Administration, UCSC Genomics Institute
Claire Schneeberger: Founder & CIO, Monarch Media
Keri Waters: Co-Founder & CEO, Calliope Waterworks
Beverages and light snacks provided by Plantronics.
Note: Limited free parking is available in the Plantronics visitors parking lot and street parking is also available.
This event is sponsored by:
Plantronics, Inc.
Santa Cruz Works
Calliope Waterworks
City of Santa Cruz Economic Development
Santa Cruz Tech Beat
###