Companies
Meet ZoZbot: The Future of Robo-Gaming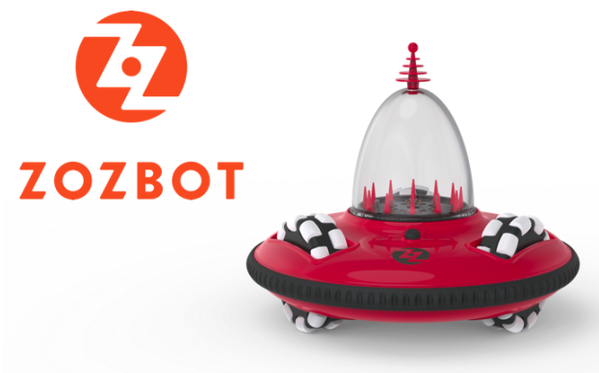 By Sara Isenberg
Founder, Publisher, Editor-in-Chief, Santa Cruz Tech Beat
January 13, 2016 — Santa Cruz, CA
Santa Cruz Tech Beat published a variety of articles about local companies that were at CES, the Consumer Electronics Show, in Las Vegas last week, including Plantronics, Calliope Waterworks, and Inboard Technology. I also asked if any other local companies had news to report from CES, and I received a great tip: Santa Cruz-based ZoZbot made its debut at CES!
What is Zozbot?
ZoZbot is the first consumer, modular robot that enables Robo-Gaming, a continuously evolving gaming experience that blends the creativity and excitement of robotics with a combination of pool, pinball, mini-golf, soccer and other games for players of all ages. ZoZbot is a smart, modular robot that brings robot gaming to life and introduces kids and their parents to the worlds of programming, robotics and gaming through interactive game play.
Ken Miller, the principal at Cut Throat Robotics, is ZoZbot's founder and lead engineer. Miller holds a degree in Mechanical Engineering from UC Berkeley and has over 40 years of systems design and product development. His projects have resulted in 15+ US patents, with many more pending — including some inside the ZoZbot. The ZoZbot team held their launch party last month at Surf City Billiards in Santa Cruz with close to 100 supporters, backers, friends, and family. Check out ZoZbot's Indiegogo campaign.
Tom's Guide names ZoZbot "Best Robot" at CES
This colorful, saucer-shaped entertainment robot can play tabletop soccer or pool, chase your cat around the living room or give your favorite action figure a ride around the house. Thanks to a planned ecosystem of expansion modules, you'll be able to add a tiny rocket launcher, Wi-Fi connectivity or a camera that turns this fun-loving automaton into a security or telepresence system. Developers will have a chance to build their own expansion modules, program the ZoZbot or design their own game boards after the product starts shipping in May for $149. — Tom's Guide
Other buzz about Zozbot at CES? Yes!
Read reviews from Mashable, Yahoo, and Gigmag:
###
If you wish to republish this article, please follow our Terms of Use.
###