Featured
I'm not a "tech person" but…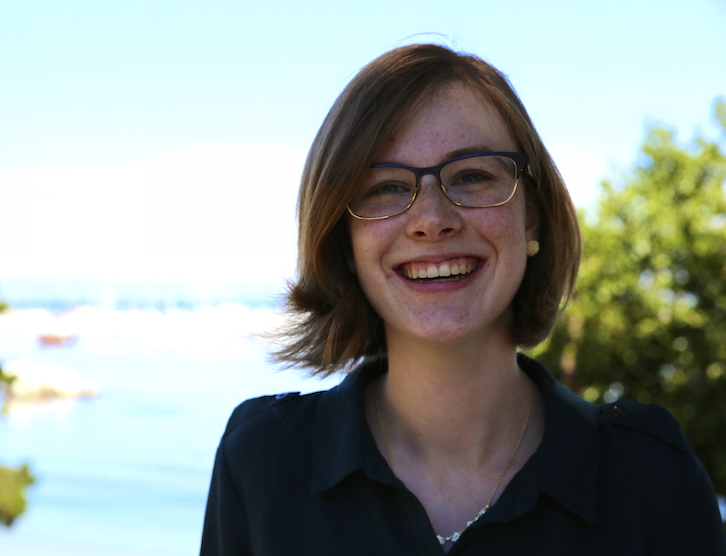 By Paige Welsh
Special to Santa Cruz Tech Beat
November 12, 2015 — Santa Cruz, CA
[Editor's note: Paige Welsh wrote a wide variety of creative and well-researched articles for Santa Cruz Tech Beat while she was a student at UC Santa Cruz. She graduated last spring and is now a Science Communication Intern at The Center for Ocean Solutions in Monterey.]
I honestly never considered myself a "tech person" until I wrote for Santa Cruz Tech Beat. There was something daunting about the idea of green boards riddled with wires and puzzling my way through code. Moreover, I never thought of tech as something worth writing about unless I wanted to be a science fiction writer. However, I now know that technology is a cornerstone to our culture.
Somehow in my study of humanities, our most recent technology got left out of the conversation. Don't get me wrong, we have to know the old stuff to know why we're here — I found 164 year old Moby Dick relevant enough to write my thesis on — but room for reflection on what exactly we're doing right now was scant because that's what "the science people" (those philistines!) were doing. But think about how human culture changed with the creation of paper, then the printing press, and then the internet. The journey of science and technology is a tide that tugs our arts and identities along with it.
Possibly now more than ever, it's a mistake to ignore progress of technology because historical change is only accelerating. If a scribe were recording history as it happened, it was once feasible to keep up with ink and quill. Now that scribe would have to type 150 words per minute, and their printer would spew out new pages before the previous pages' ink dried.
During my glimpse into local technology, I reported on the late nights and constant problem solving that it takes to create a start up at Futuristic Lights (Infinity Gloves). I examined the creativity that coders put into building bridges between the programs that I once took for granted with the folks at Interface Vision. I saw the future of story-telling in video games with Choice Provisions. I considered how I may one day converse with artificial intelligence with the UCSC Computer Science department. I saw how that human desire to create art interweaves with the potential of our tools at the Idea Fablabs. Technology is not, and never was, an objective sphere of science and numbers. It is woven into our identity, our culture, and humanness.
Though I am writing less directly about technology at The Center for Ocean Solutions, where I now work, I am always aware of how ocean science and ocean environmental crises are inextricably bound to our relationship with technology. We can now read the genetics of an ecosystem in a glass of seawater, but we can also change the course of natural history by producing enough plastic to cover beaches and enough carbon emissions to spawn a new climate era. This can lead to solemn considerations.
I feel very fortunate to have met Sara Isenberg during my Science Journalism course at UC Santa Cruz. Sara helped foster in me an understanding of technology by making a space for it in Santa Cruz Tech Beat, a publication that serves as a beacon for the local technology community to gather around. For that, I thank her. I hope that when I am further along in my career, I can do the same for someone else.
###
Paige Welsh can be contacted at phwelsh@ucsc.edu.
###
If you wish to republish this article, please follow our Terms of Use.
###
Tagged UC Santa Cruz