Featured
New UCSC Center Will Bolster Support for Innovation & Entrepreneurship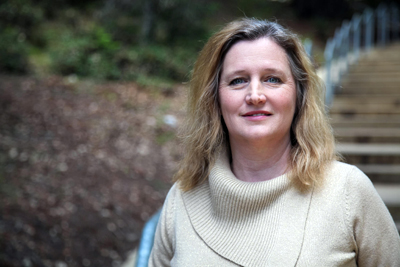 By Sue Carter
Director of the Center for Innovation and Entrepreneurial Development (CIED), UC Santa Cruz
April 21, 2015 — Santa Cruz, CA
(Photo above: Sue Carter, Director of the Center for Innovation and Entrepreneurial Development (CIED). Photo credit: Carolyn Lagattuta)
New center will support faculty and students who want to take their ideas into the marketplace.
One of the most exciting things about working at a research university is being surrounded by great ideas. As the founder of four companies, I can attest to the satisfaction of translating ideas into products and services that impact the world.
At UC Santa Cruz, we are preparing to launch a bold new suite of programs and educational services to support the entrepreneurial desires of students, faculty, and the greater Santa Cruz community.
Building on the success of the Center for Entrepreneurship in the Baskin School of Engineering, the new Center for Innovation and Entrepreneurial Development (CIED) will support faculty and students who want to take their ideas into the marketplace, whether in the for-profit or nonprofit realm.
The center's mission is tailored to this campus's values and location: It will provide campuswide support for both technological innovation and social enterprise, and it will reach out to and encourage women and underrepresented minorities to bring their ideas to life.
CIED's signature initiatives include:
A proposed Summer Session certificate program for undergraduates, graduate students, and community members. Currently in the planning stages and targeted to begin in 2016, this program would serve up to 20 teams, each made up of students, a faculty or staff member, and a mentor with experience commercializing technology.
A graduate minor for master's and Ph.D. students. Completion of the certificate program and three designated courses in psychology, economics, and technology management would make students across the disciplines eligible for a designated emphasis in innovation and entrepreneurship.
Development of seminars and workshops. A number of workshops offered throughout the year will introduce faculty, staff, and students to grant opportunities, mentors, and other resources needed to transition their ideas into new innovations. A seminar series starting this fall will showcase faculty, students, and alumni with impressive achievements in business creation.
Housed in the Graduate Division, CIED coordinates with the Office of Research, the Division of Undergraduate Education, and the deans of the five academic divisions. Off-campus collaborators include Bonnie Lipscomb, executive director of the city of Santa Cruz's Economic Development Department, Teresa Thomae of the Small Business Development Center at Cabrillo College, and many members of the local entrepreneurship community, including numerous energetic Silicon Valley veterans who have relocated to Santa Cruz and are focused on revitalizing opportunities on this side of the hill.
Silicon Valley is typically interested in technology start-ups, but CIED will have the capacity to support social enterprise projects, as well. As a global society, we are facing critical needs in renewable energy, water purification, poverty alleviation, and educational equity—to name just a few.
This campus is home to many great minds filled with wonderful, entrepreneurial ideas but little time or experience to develop them. Graduate students express strong interest in receiving more training in entrepreneurship and nonprofit administration, while undergraduate classes lack the capacity to meet demand.
Businesses launched recently by UCSC affiliates include Two Pore Guys, Dovetail Genomics, Maverix Biomics, and one of my own, Soliculture. Entrepreneurship in the greater Santa Cruz community is exploding, too. This is an opportune moment to expand the reach of successes like Hack UCSC and our campus business plan competitions, enhance our curriculum, and launch new initiatives.
I'll be the first to say it is challenging to balance one's interest in innovation with one's academic career, but the campus is committed to easing the process for those who want to dive in. I've launched companies to develop products that ranged from solar technology to K-12 science education, and I certainly would have appreciated resources like those of the CIED.
If you want to learn more, watch for the center's new website (cied.ucsc.edu), which will go live in coming weeks.
Source: http://news.ucsc.edu/2015/05/carter-keynote.html
###
Tagged CIED, UC Santa Cruz