Companies
The History & The Future of Genomics In Santa Cruz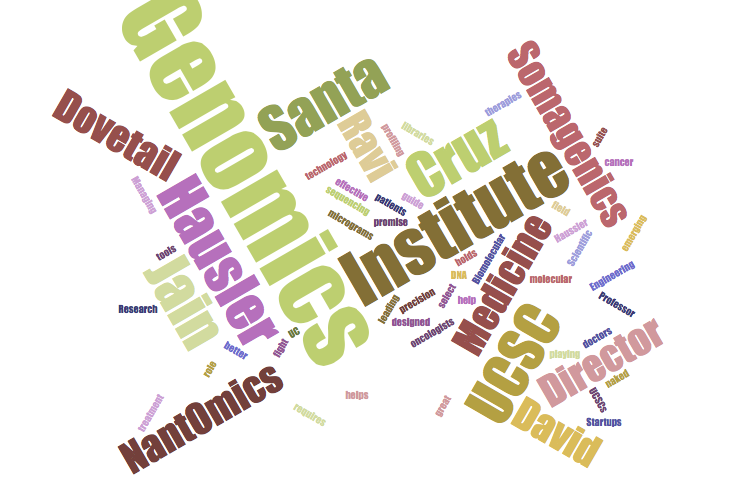 By Sara Isenberg
Founder, Publisher, Editor-in-Chief, Santa Cruz Tech Beat
October 1, 2015 — Santa Cruz, CA
The public is invited to an informative evening of TED-style talks from local scientists and biotech startup leaders who are pioneering genomics research and new medical treatments.
Monday, October 26, 2015, 6pm-9pm
Monterey Bay National Marine Sanctuary Exploration Center, 35 Pacific Ave., Santa Cruz, CA
$10.00/person
The event is co-sponsored by Santa Cruz Works and Santa Cruz Tech Beat
Presenters and companies include:
David Haussler: Professor, Biomolecular Engineering, and Scientific Director, UCSC's Genomics Institute. UC Santa Cruz is playing a leading role in the emerging field of "precision" medicine that holds great promise in the fight against cancer.
Ravi Jain: Managing Director of UCSC's Genomics Institute. Jain recently came to UCSC after serving as president and CEO of cBio, a software development and bioinformatics consulting firm he co-founded.
NantOmics: Offers a comprehensive suite of molecular profiling tools designed to help guide patients and doctors to better therapies.
Dovetail Genomics: Has developed a method for constructing long-range sequencing libraries that requires only a few micrograms of naked DNA, no expensive equipment, and can be done in a few days.
Somagenics: Has developed technology that helps oncologists select most effective treatment. [Note: Santa Cruz Tech Beat published this article about Somagenics, April 30, 2015.]
###
Tagged genomics, UC Santa Cruz