Companies
Not Another Solar Company (Please!)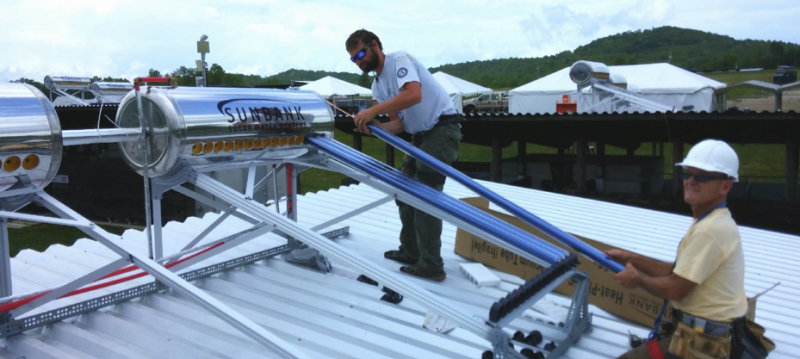 By James Richards
The SunBank, Founder and CEO
Special to Santa Cruz Tech Beat
(Photo above: Version 2.0 Sunbanks being installed at the National Boy Scout Camp in West Virginia. Credit: James Richards)
July 24, 2015 — Santa Cruz, CA
Changing the way we heat our water
Santa Cruz is full of solar installers competing to put solar panels on your roof. They knock on your door, they send you mail, and they're on your newsfeed. At last check there have been more than 800 permits for solar installations in Santa Cruz and that number ticks upward by the day.
Solar has gone mainstream in Santa Cruz and that is a really good thing. But we've overlooked a complimentary solar technology that is far less expensive and can help to minimize your reliance on fracked natural gas: solar hot water. Also known as solar thermal.
Why is this important? Because heating water accounts for 15-30% of residential energy consumption and can be eliminated with $1,500 worth of equipment. For hot water intensive businesses like breweries, hotels, laundromats, etc, heating water can account for as much as 80% of their energy consumption and cost tens of thousands of dollars per year.
There's an interesting political history that explains how we arrived at this solar asymmetry. It's an American history, however, as the rest of the world has kept their foot on the solar thermal gas pedal (if there was ever a mixed metaphor!) and have left us in the dust. Several countries are close to 100% solar thermal adoption and see solar as the only sensible way to heat their water.
We're interested in catching back up with the rest of the world and eliminating a big chunk of fossil fuel consumption. Fortunately, so is the State of California and the US Government. The California Solar Initiative has hundreds of millions of dollars to persuade business and homeowners to install solar hot water. They will cut you a check that will cover up to 70% of the equipment cost and the Federal Government will give you a 30% Federal Tax Credit on the complete cost of installation. That is not a typo and I have a feeling you didn't struggle with the math. Our challenge? Let people know about that before these programs expire in 2016.
We are not another solar installer in town
Hello, we are Sunbank Solar. We are not another solar installer in town. In fact, we're not a solar installer at all. Sunbank was started as a seed of an idea planted on the sparsely populated inland waterways of the Atlantic Coast of Nicaragua. Working with an Energy Access NGO, it was there that we built our first solar water heater. Being impressed by how well it worked led to being confused about how this technology seemed to be popular in so many places but not the US.
We have been manufacturing a special type of solar thermal system since 2011. The Sunbank costs half as much as the next solar thermal system and has no pumps that consume electricity and uses no chemicals like glycol that break down when overheated. The Sunbank is made of corrosion resistant aluminum and stainless steel, is 6x more efficient than solar panels and costs 10x less. In the interest of brevity you'll have to scoot over to our website if you want to find out more about how it works.
Since 2011 we have been working with installers, business and home owners to establish a track record with hundreds of systems installed and lots of happy customers. We wanted to get everything right before we started telling a lot of people about it. And now is that time.
What if you could get a solar brewed beer at your local brewery? Or do solar heated laundry at the local laundromat? Or better yet, take a fracking free solar heater shower in your apartment? We can help with that. And we're putting together a waiting list for our solar hot tub retrofit kit which should be for sale in the next few months.
We're looking for engaged and aware people who are excited to join the movement and collectively change the way we heat our water.
For more information, visit: http://www.thesunbank.com
###
If you wish to republish this article, please follow these guidelines:
Add "The following article by <name of author> was originally published in Santa Cruz Tech Beat" at the top of your copy of SCTB's article and link that text to the original article in SCTB.
If you follow the above guideline (#1), you are welcome to publish a couple paragraphs of teaser text and then "Continue reading in Santa Cruz Tech Beat." and link that text to the original article in SCTB.
Learn more about our guidelines here.
Tagged Solar, The SunBank