Companies
Apple spending $850M on solar farm project in Monterey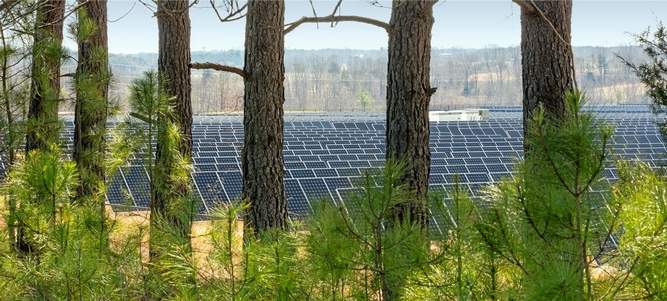 By Jason Hoppins and Phillip Molnar
Monterey Herald
(Photo above: Apple's North Carolina solar array covers a nearly 100-acre field. Courtesy Apple.com)
Apple has inked a deal with the company building a massive solar farm in a remote region of southeastern Monterey County to power its Cupertino headquarters and all California Apple stores.
Apple CEO Tim Cook made the announcement Tuesday, saying the technology company would invest $850 million to buy electricity from a proposed 280-megawatt solar farm in Cholame Valley. Arizona-based First Solar is building the facility, which would have a solar field larger than the city of Pacific Grove and is known as the California Flats Solar project.
"We know at Apple that climate change is real," Cook said at a technology conference hosted by Goldman Sachs. "Our view is that the time for talk is past and the time for action is now."
The project won final approval from Monterey County Supervisors on Tuesday. Construction could begin this year and the company projects it will be operational in 2016.
Despite moving through a lengthy approval process, county staff said Apple's involvement was news to them.
"We just knew (First Solar) had different agreements from consumers to buy the power. But we didn't know who," said Mike Novo, the county's planning director.
First Solar said Apple is not an investor or owner in the project, but has a power purchase agreement to buy electricity generated from the project for 25 years. That deal is for 130 megawatts, or about 46 percent of the facility's production.
"Apple is the largest commercial entity to enter into such an agreement, which is the largest solar electricity commercial agreement to date," First Solar spokesman Steve Krum said.
Continue reading article here: http://www.montereyherald.com/technology/20150210/apple-spending-850-million-on-solar-farm-project-in-monterey-county
Tagged Solar