Events
Forbes AgTech Summit kicks off in Gonzales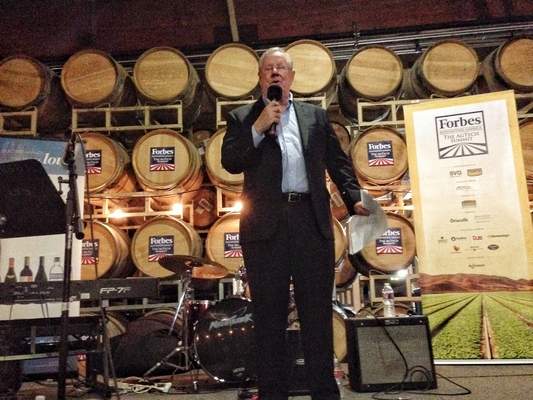 By Phillip Molnar
Monterey Herald
(Photo above: Steve Forbes, chairman of Forbes Media, gave a speech on the value of innovation in Gonzales at Constellation Winery to kick off the Forbes Reinventing America AgTech Summit. Photo credit: Phillip Molnar)
July 9, 2015 — Gonzales, CA
Steve Forbes urged business leaders and thinkers to work together to find solutions for water shortages and other agriculture-related issues at the Wednesday kick off in Gonzales of an agriculture technology event.
Forbes, chairman of Forbes Media and former Republican candidate in two presidential primaries, is behind the team that brought the Forbes Reinventing America AgTech Summit to the Salinas Valley.
The event is part of an effort to merge the technological expertise of Silicon Valley with local agriculture.
"The crisis we face today will be but a memory that children read about in history books," he said at Constellation Winery to a crowd of roughly 400 people.
Continue reading article here: http://www.montereyherald.com/business/20150708/forbes-agtech-summit-kicks-off-in-gonzales
###
Tagged Ag Tech