Companies
Parting the 'lettuce curtain' between Silicon Valley, Salinas, Pajaro valleys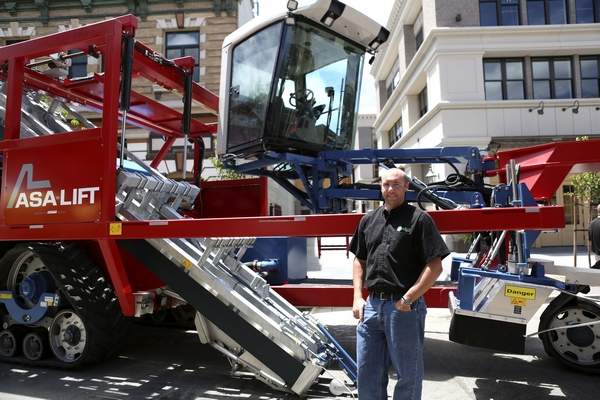 By Samantha Clark
Santa Cruz Sentinel
(Photo above: Aaron Magenheim of Ag Tech Insight, which helps bridge the gap between Silicon Valley and Salinas Valley, poses at the AgTech Summit hosted by Forbes in Salinas last week. Photo credit: Arielle Berger)
July 12, 2015 — Salinas, CA
Venture capital invested more than $2 billion into the ag tech sector in 264 deals last year
The Central Coast is perfectly primed to take advantage of new technology that can help ease the pressures farmers face, including food demand, regulations and water and labor shortages.
But as tech entrepreneurs and investors sow the next generation of precision agriculture — using apps, sensors and aerial imaging for gathering data to make smarter decisions — it's been challenging to part the so-called "lettuce curtain" between Silicon Valley and the Salinas and Pajaro valleys. Though they are about an hour away from each other, in some respects they are different worlds. And there can be a disconnect between what tech proposes and what agriculture wants.
Having grown up working in his family's irrigation business and having started Signature AgTech Inc. three years ago, Aaron Magenheim of Salinas saw a need for some sort of liaison who understands how to align the needs of growers with the technological solutions offered by Silicon Valley.
"The whole tech world wants to take this big leap, and for farmers, it's a 20-, 30-year jump," Magenheim, 31, said. "There needs to be education."
A year ago, he started Ag Tech Insight to consult Silicon Valley investors and startups and to connect them with growers. His company has now developed a team from both fields who help bridge the gap, with five full-time and three part-time employees.
Continue reading article here: http://www.santacruzsentinel.com/business/20150711/parting-the-lettuce-curtain-between-silicon-valley-and-salinas-pajaro-valleys
###
Tagged Ag Tech