Events
NuuJack, Slithr, CareCuts, Code Naturally, Win at Business Design Showcase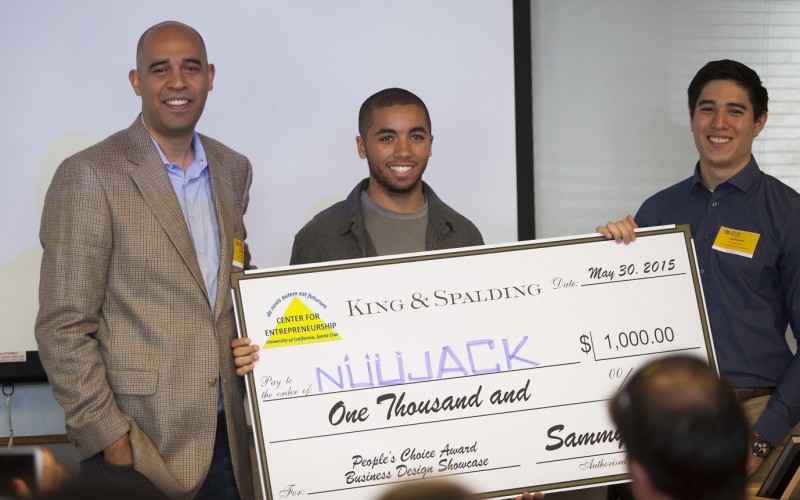 By Sonya Newlyn
Special Program Assistant, UCSC Baskin School of Engineering
[Editor's note: As previously published by Santa Cruz Tech Beat in New UCSC Center Will Bolster Support for Innovation & Entrepreneurship, April 21, 2015, UCSC has just launched the Center for Innovation and Entrepreneurial Development (CIED). This Business Design Showcase was the last event for the Center for Entrepreneurship, aka C4E. Going forward, CIED will support faculty and students who want to take their ideas into the marketplace. Stay tuned!]
(Photo above: Sponsor Stephen Abreu, left, patent attorney (and BS and MS alum of UCSC) of King & Spalding Law Firm's San Francisco Office, poses with People's Choice Award winners Spencer Butterfield and Zach Boelsterli for their NuuJack universal headphone jack. Photo credit: Tosh Tanaka.)
Student winners honored at 3rd annual award event
June 5, 2015 — Santa Cruz, CA
The UCSC Center for Entrepreneurship's 3rd annual Business Design Showcase took place Saturday, May 30, 2015 at the UCSC Silicon Valley Center in Santa Clara and was a smash success! Two days prior, entrepreneur judges heard the business pitches of our student contestants and decided on the top three winners. At the Showcase itself on Saturday, the VIP corporate and other guest attendees spent their allotted Slug Buck money to "seed fund" and thus vote for the People's Choice Award winner.
Our winners are:
People's Choice Award, $1000: NuuJack by Zach Boelsterli (BA Business Management Economics 2015) and Spencer Butterfield (BS Computer Science: Game Design 2017).
The People's Choice Award was sponsored by King & Spalding Law Firm and by Laura Bushnell of King & Spalding, also a UCSC Foundation Trustee and member of the Baskin School of Engineering Dean's Advisory Council. On hand to present the People's Choice Award giant check to Zach and Spencer was King & Spalding Associate and patent attorney Stephen Abreu (BS Biochemistry and Molecular Biology 1999, MS Molecular Biology 2003) of the San Francisco Office. NuuJack will soon be a patented universal electrical jack for mobile phones, tablets, amplifiers and other electronic devices!
1st Place: $4000: Slithr Electric Vehicles by Carl Demolder (BS Electrical Engineering 2016).
The 1st Place award was sponsored by the Baskin School of Engineering Dean's Fund, courtesy of Interim Dean Joseph Konopelski, who was on hand to present the 1st-Place giant check to Carl. Slithr Electric Vehicles uses patent-pending technology in its electric-powered, portable yet powerful longboards. Slithr longboards' unique base unit adapts to any longboard deck, and the user may customize for height, riding ability, and style. Slithr also offers patented Shark Wheels with a third the friction of standard wheels. Riders control speed, acceleration, and braking with a handheld device or wireless app on a smart phone or Myo armband.
2nd Place, $3000: CareCuts by Caitlin Deigel (BA Business Management Economics 2015).
The 2nd Place award was sponsored by the UCSC Office of Research, courtesy of Vice-Chancellor of Research Scott Brandt, who was, unfortunately, unable to attend. Technology Management Lecturer Dr. John Skardon, from whose entrepreneurship classes most of the competitors came, presented Caitlin with her giant 2nd-Place check. Caitlin plans to use her prize money to launch her non-profit, a safe voucher and online method for bringing homeless shelter residents to local salons for haircuts and styling to help them re-enter the workforce.
3rd Place, $2000: Code Naturally by Sukhmeet Singh (BS Technology and Information Management 2015), Asher Gardner (BA Philosophy 2015), and Justin Blair (BA Film and Digital Media 2016).
The 3rd-Place award was sponsored by the following Scotts Valley businesses: Ideas Siero Lab, artists.com, and Business With Pleasure, all owned by Marcelo Siero, a PhD student in computer engineering. Marcelo was on hand to present Code Naturally with their giant 3rd-Place check and sponsored with the in-kind donation of $2000 worth of printing services for this event: the four giant checks themselves, our programs, name tags, and sets of 100 business cards for several students for their businesses. Code Naturally is a software application for the Microsoft Surface for recognizing handwritten code, compiling it, and executing it on the other half of the Surface screen. The Code Naturally team was mentored by Microsoft General Manager of US Startups Jim Brisimitzis (who happens to be Computer Engineering Professor Patrick Mantey's son-in-law!).
Prior to the announcement of our winners and the presentation of their giant checks, the afternoon began with an hour of networking, with guests receiving their allotted Slug Bucks and visiting the 19 student businesses on display and hearing the student entrepreneurs' business pitches. Guests "seed-funded" their favorite businesses, and the business receiving the most Slug Bucks won the People's Choice Award of $1000.
Following the hour of networking and Slug Buck seed-funding, everyone assembled in the center room to hear a welcome address from Center for Entrepreneurship Director Dr. Brent Haddad; testimonials of further entrepreneurial activity following winning one of the previous two years of the contest by 2013 Judges' Discretion winner of $500 Dustin Gargas (BA Economics 2013) and 2014 2nd-Place winner of $3000 (with partner Bar Smith) Tom Beckett (BA History 2013); and a superb and inspirational keynote address entitled Scientific Entrepreneurship: Rationally Irrational by UCSC Foundation Trustee Dr. Brandon Allgood (PhD Computational Physics 2005).
Our judges were:
Dr. Sue Carter, UCSC Physics Professor, Founder of IRIS Science Academy and Soliculture
Dr. Juan-Antonio Carballo, Sr Manager Sales at AMD and Member of the VC group Band of Angels
Dr. Carley Corrado (PhD Physical Chemistry 2011), Director of Business Development at Soliculture
Dr. Tracy Larrabee, Computer Engineering Professor
Ms. Melissa Liu (BS Computer Engineering 1991), CEO of 2025 Labs
Mr. Andrew Mueller, CEO & Chief Strategist of Mueller & Co. and Co-Founder of the VC group TechRaising
Our distinguished entrepreneur mentors were:
Our entrepreneur mentors were:
Mark Adams (BA Business Management Economics 2014), Program Manager of Santa Cruz Works
Jim Brisimitzis, GM of US Startups at Microsoft in Redmond, WA
Mike Dove (BA Computer Science 1985), Co-Founder & President of Cloud Parity
Dustin Gargas (BA Economics 2013), Market Development Representative at Social Chorus
Rob Katcher, Founder & CEO of hiku
Curt Miyashiro (BS Computer Engineering 1989), Consultant at Brand Nu Bag
Paul Vroomen (PhD Technology & Information Management 2015), President & CEO at Sandbridge Technologies
Keri Waters, Advisor at Vivo Technology
The Center for Entrepreneurship thanks the generosity of our sponsors and their representatives, our fabulous keynote speaker Dr. Brandon Allgood, our judges, mentors, guest attendees, staff, and the student entrepreneurs who competed in this event!
###
Tagged Baskin School of Engineering, UC Santa Cruz, UCSC Entrepreneurship Showcase