Companies
Gesher Group goes to Google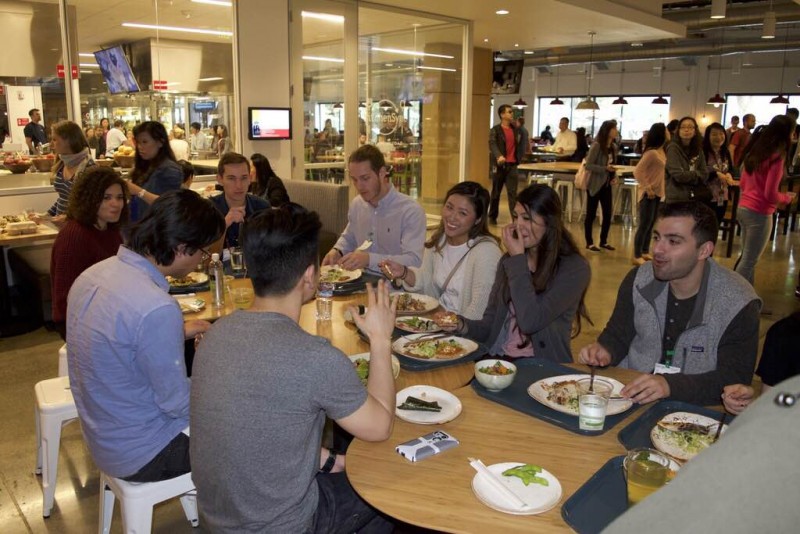 By Austin Sean Lastra White
UCSC student, Marketing Administrator and Consulting Advisor at Gesher Group
Special to Santa Cruz Tech Beat
(Photo above: UCSC's Gesher Group students enjoy their gourmet lunch in the Google cafeteria, while listening to Google Coordinator of the Tech Intern Program, Chip Hayashi. Credit: Neil Raman)
Yes, everything you saw in The Internship is real!
Gesher Group is a consulting group that was born at UCSC in an attempt by ambitious and passionate undergraduates to interconnect their college experience with the workplace. Gesher is the Hebrew word for bridge, and bridges are exactly what we are building to connect our members with the labor force.
Gesher Group holds workshops, weekly meetings, seminars, and many other educational events in order to provide our members with hands-on experience and to further our education out of the classroom. Based in Santa Cruz, one of Gesher Group's main goals is to make connections to job and internship opportunities in the Bay Area to its members. Thus, it is not hard to guess where many of our members imagine themselves working in the near future: Google.
When you imagine what working at Google might feels like, you probably think of the Wonderland of the tech industry. Luckily, our members recently got to imagine less and experience more what Google is like. Chip Hayashi, a UCSC alumnus and a current Tech Intern Program Coordinator at Google, offered us the opportunity of a tour around Google Campus in Mountain View. He also gave us advice on how to approach job interviews at Google.
The GBikes, the nap pods, the modern architecture… yes, everything you saw in The Internship (2013) is real, and it's all present at the Google Campus. Furthermore, there are coffee shops, dining areas and fitness facilities in almost every building. As Chip Hayashi told us, "fitness and healthy habits are part of the business culture at Google."
We saw first-hand the innovative and unique culture that Google tries to promote in its workplace. Leadership, the will to constantly pursue bigger challenges, and the ability to adapt to changes seem to be characteristics that every employee at Google must possess. Google has never tried to be your traditional business, so you should not expect to find the traditional employees. In contrast to what we saw in the movie directed by Shawn Levy, Google employees are not all tech geeks that wear the Google Hat. They are a diverse group of brilliant minds.
Chip Hayashi told us, "it doesn't matter if you come from an Ivy League or from a Junior College. What matters is who you are, and what makes you different." Similar to many new-grad job seekers, Chip Hayashi approached his job hunting process insecure about whether his education and grade point average would be good enough for a company like Google. However, it was Chip Hayashi's unique qualities that got him the job. His passion for people and his confidence in himself stood out to the interviewers at Google. Education is considered a given by recruiters. What matters, he said, is that section at the bottom of the resume that differentiates you from the others. Thus, Chip Hayashi stressed the importance of pursuing our passions out of the classroom. Of course, he also reminded us that pursuing extracurricular passions does not mean abandoning educational ones. "They both need to be strongly intertwined," he said.
Our members were amazed with the facilities at Google Campus, and we were all thrilled to go over the hill from Santa Cruz to Silicon Valley and experience what a Friday at Google feels like. The life-work balance, the flexibility of working hours, and the diversity and uniqueness in Google's workplace seemed to be what our members remembered after the tour.
Gesher Group thanks Chip Hayashi for showing us what happens behind the scenes at a huge tech company like Google. We hope to see him at UCSC soon!
###
Austin Sean Lastra White is currently a UCSC sophomore double majoring in Business Management Economics and Psychology. His passion is to motivate and encourage people to become the leaders that the future needs. You can reach him at aslastra@ucsc.edu.
###
If you wish to republish this article, please follow our Terms of Use.
###
Tagged Gesher Group, UC Santa Cruz