Companies
Get over the fear and jump in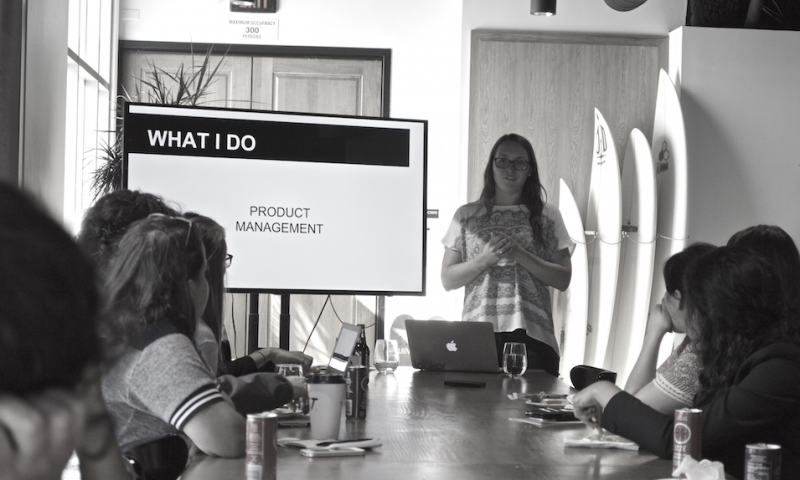 By Amanda Rotella
Economic Development Coordinator, City of Santa Cruz
Special to Santa Cruz Tech Beat
(Photo above: Abby West, Product Manager at Looker, talks with high school and college women who are interested in tech, during the "Tour of Santa Cruz Women in Tech" held April 2, 2015. Photo Credit: Rebecca Unitt)
April 2, 2015 — Santa Cruz, CA
Students hear tips on how to navigate as a young woman in tech
The City of Santa Cruz Economic Development Department organized a "Tour of Santa Cruz Women in Tech" geared specifically to women in high school and college on Thursday, April 2, 2015. Students visited NextSpace and Looker to hear from professionals in the local tech industry.
Presenters Judith Wellner (Launch Brigade), Sara Isenberg (Santa Cruz Tech Beat), Genevieve Primavera, Abby West (Looker), and Erin Franz (Looker) spoke about their career paths, current jobs and projects, and what is takes to be a successful woman in tech today.
The number of women tech professionals in Santa Cruz's burgeoning tech scene can be surprising even to those paying attention. Who knew that women are represented at all levels of Santa Cruz's tech companies, and as engineers, COOs, and analysts to boot?
But why is this a surprise, you may ask, why is it that strong women succeeding in their chosen industry is such a pleasant revelation? Recently there has been a lot of negative attention on Silicon Valley companies covered in the press for sexual harassment, gender-based hiring, and unequal compensation systems. It isn't just the seemingly anti-women culture that has garnered a lot of attention, there has also been much attention given to the small representation of women in the tech industry to begin with, and perhaps this is the perfect example of the proverbial chicken-egg conundrum. It is hard to attract women into an industry that seems to be bullying them out. While these issues of equality are really important to address, they aren't the whole story. What about all of the women with positive experiences and stories to share; not as news worthy, but just as important – especially for encouraging the next generation of women to explore a future in tech.
Women have the talent and skills vital to a growing tech companies. The aspiring college and high school techies who attended this event is proof of that. Young women interested in pursuing careers in STEM focused industries gathered to listen to from women from Looker, Launch Brigade, among others. The focus of this event was twofold – to highlight today's women in tech and to connect them with those up-and-coming women studying engineering, programming, game design, computer science, and more. Overall, the consensus from the conversation was to not focus on being a potential minority in this industry, instead, as Judith Wellner of Launch Brigade put it "You don't need to think 'I am a woman in tech' but [rather think about] what is my core authenticity, who am I, what are my values, and you can bring that to any industry that you want to."
There is small but mighty number of women who have found their way into the Santa Cruz tech scene and have positive stories to tell about their careers and how they ended up in Santa Cruz.
"Santa Cruz right now is really exciting, the whole [tech] industry in Santa Cruz is exciting, because it is just now exploding into what it is going to be, it a little more upbeat… it's more inviting to new ideas. There is a huge advantage to working in this industry in Santa Cruz and meeting all the people [here] who are much more community conscious and much more likely to connect with people. They are very people people," said Wellner.
The presenters didn't shy away from the challenges of being a woman in a male dominated industry and had stories to share about obstacles they have personally overcome, but the theme of the presentations was more so focused on the message of getting over the initial fear of jumping in to the industry and then being the change they wish to see.
"This is an amazing opportunity for students interested in careers in tech to learn more about our growing tech community and hear directly from the women tech professionals that have chosen to work in Santa Cruz," says Bonnie Lipscomb, Executive Director, City of Santa Cruz Economic Development Department.
Participating students were given a chance to talk about their fears, to ask questions, and, most importantly to connect. Following the presentation, students chatted with Abby and Erin about opportunities at Looker. Students from Cabrillo networked with other aspiring techies from UCSC and Santa Cruz High School.
There is a clear interest in continuing this conversation around women in tech. From presenters to attendees, the passion is there.
###
If you wish to republish this article, please follow these guidelines:
Add "The following article by <name of author> was originally published in Santa Cruz Tech Beat" at the top of your copy of SCTB's article and link that text to the original article in SCTB.
If you follow the above guideline (#1), you are welcome to publish a couple paragraphs of teaser text and then "Continue reading in Santa Cruz Tech Beat." and link that text to the original article in SCTB.
Learn more about our guidelines here.