Featured
UCSC ranked 8th in top 25 grad schools for game design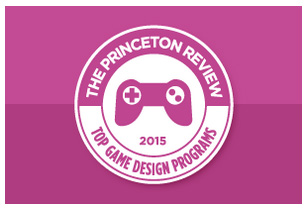 March 26, 2015 — Santa Cruz, CA
The graduate programs in game design at UC Santa Cruz were named among the top programs in the country by the Princeton Review, an education services company. UC Santa Cruz was ranked 8th on the company's list of the "Top 25 Graduate Schools to Study Game Design for 2015."
"I'm excited to see UC Santa Cruz again among the best grad programs in the world for game design. The quality of our faculty and our students is amazing, and the two together create an incredible environment in which to study and to create games," said Brenda Romero, program director for the professional M.S. in games and playable media.
UCSC offers a broad range of programs in computer game design. The campus has three graduate programs with an emphasis on games: the professional M.S. in games and playable media; the digital arts and new media M.F.A.; and the Ph.D. or M.S. in computer science with a games focus. The Baskin School of Engineering also established the first undergraduate major in computer game design in the UC system in 2006.
The Princeton Review selected the schools on its list based on a survey it conducted in 2014-15 of 150 institutions offering game design coursework or degrees in the United States, Canada, and some countries abroad. The survey covered a range of topics, from academic offerings and faculty credentials to the starting salaries and employment experience of program graduates. Factors considered in the assessments included the program curriculum, faculty, facilities, career services, and technology.
The full list is available at princetonreview.com/college-rankings/game-design.
For more information on the game design programs at UC Santa Cruz, visit games.soe.ucsc.edu.
###
Read original article here: http://news.ucsc.edu/2015/03/game-programs.html
Tagged game design, UC Santa Cruz