Featured
Science to the people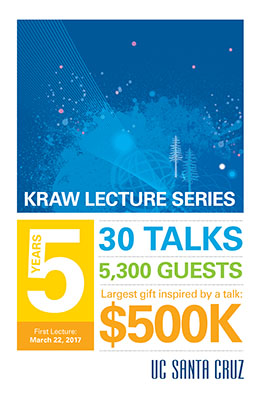 By Dan White
UC Santa Cruz
May 19, 2021 — Santa Cruz, CA
Alumnus George Kraw reflects on the success of the popular Kraw Lecture Series, which turns complex scientific inquiry into engaging public presentations
When alumnus George Kraw (Cowell '71, history and Russian literature) launched his popular Kraw Lecture Series on Science and Technology four years ago, scientific inquiry was under attack.
That year, the Union of Concerned Scientists published a list of scientific setbacks during the Trump administration, from vanishing online data to the reduced role of scientists in federal policymaking.
"Political appointees have shut down government studies, reduced the influence of scientists over regulatory decisions and in some cases pressured researchers not to speak publicly," the New York Times reported in 2019.
During a tense and demoralizing period for science, the Kraw Lectures were an impassioned defense for scientific inquiry, in a series that prided itself on open access.
The Kraw talks, which are sponsored by Kraw, are always free and open to the public, and cover topics ranging from the Antarctic in a time of climate change to the possibility of self-driving cars creating massive future gridlock.
The straightforward and flexible event format, which pairs a leading expert with a timely and intriguing science and tech issue, allows the Kraw to change with the times. One of the goals of the Kraw lectures is to increase major gifts to UCSC. The lectures have led to fortuitous meetings, partnerships, and funding opportunities.
Pandemic pivot
While the Kraw started out in an analog, in-person format—with lectures drawing crowds at UCSC's Silicon Valley campus—it pivoted to an all-virtual webinar-based approach after the onset of the COVID-19 pandemic, which also became a recurring subject during the lectures, with UCSC faculty reflecting on the efficacy of vaccines, the threat of variants, and other pressing issues relating to the virus.
This spring, attorney George Kraw, who made the lecture series possible with a founding gift to UC Santa Cruz, reflected on the popularity of the science talks that bear his name, as well as the urgent need to continue them into the future.
"Clear and open communication about science and technology is critically important," Kraw said. "I have been interested in the pernicious effects of political ideology and zealotry on science since my undergraduate days at Cowell College."
A summer visit to Moscow between his junior and senior year, spent at the Lenin Institute, increased his resolve to fight against pseudo-science.
"In Moscow, I learned how the provably false theories of ideologues like the Soviet biologist Trofim Lysenko led to policies that created disastrous consequences like the 1930s Ukraine famine," Kraw said.
Lysenko was an infamous scientist who was put in charge of Soviet agriculture to disastrous effect. Part of the problem was his denial that genes existed. His methods led to widespread crop failure and mass starvation. He has come to emblemize the pernicious effects of scientific know-nothing-ism.
Kraw believes that science communication is one way to counter "ideological twisting of science, whether the topic is climate change or a global pandemic." And he recognizes the public's desire for clear and direct discussion of pressing issues in the science and tech realm.
"I am very happy the lectures have found large followings," he said.
The original goal was to increase the visibility of UC Santa Cruz's work in science and technology, and was aimed primarily at a Silicon Valley audience.
"But the pandemic created opportunities to reach a global audience through live streaming and the university's YouTube channel," Kraw said. "I am hopeful that we can have live lectures again later this year, but streaming will continue."
Continue reading here: https://news.ucsc.edu/2021/05/kraw-lecture-dw-feature.html
###
Tagged UC Santa Cruz