Events
Rising International takes top prize CruzCares competition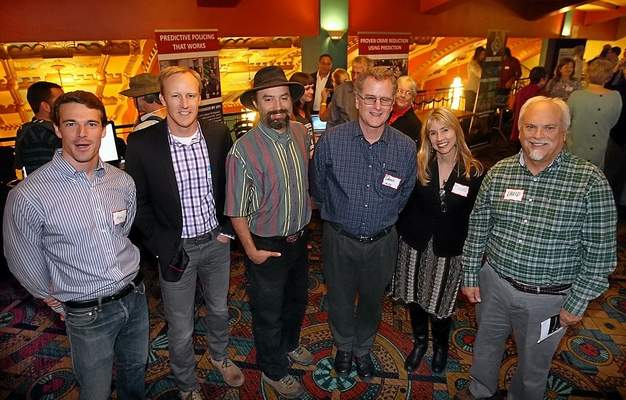 By Jonathan Partridge
Contributor, Santa Cruz Tech Beat
(Photo above: Presenters at Wednesday's CruzCares competition are all smiles as they gather in the mezzanine of the Del Mar Theatre. Participants pictured here are from left, Manu Koenig of Civinomics, Chad Mulder of ruly, Sibley Simon of Housing First, David Bernick of BioSolutions USA, Carmel Jud of Rising International, and David Foster of Habitat for Humanity. Photo credit: Dan Coyro)
March 5, 2015 — Santa Cruz, CA
Santa Cruz-based Rising International, a nonprofit that sells handicrafts made by women in poverty-stricken areas, took the top prize in Wednesday's CruzCares competition, earning $17,100 worth of prizes.
Six presenters competed for more than $27,000 in awards at the event inside the Del Mar Theatre, as nearly 200 attendees listened to their pitches. The competition was the brainchild of Janneke Lang of The Inspiring Enterprise, a Santa Cruz-based nonprofit that promotes social entrepreneurship, and Doug Erickson, founder of the Santa Cruz New Tech Meetup Group.
Erickson described the contest as an "epic and historical event." Lang said the event created an atmosphere where "tech and social good enjoy a shared vision."
Wednesday's second-place prize went to Housing First, which received $6,300 in prizes for a proposal to raise money for dwelling units for area homeless residents through bank debt and deferred bond sales.
Habitat for Humanity Santa Cruz County earned the $4,150 third-place package for a proposal to build tiny dwelling units behind the homes of senior citizens that seniors could either occupy or rent to gain financial support.
Here's a recap of the six proposals that were pitched:
Rising International – Founded in 2002, Rising International sells handmade items at Tupperware-style parties that are created by impoverished women from 28 developing countries. The people who sell the items at the home parties also struggle financially, and the organization provides them with opportunities for upward mobility. Rising International founder and president Carmel Jud shared one story in which a woman in Afghanistan, who had sold her children, was able to buy them back from money she earned by creating handmade dolls. The woman who sold her dolls in the U.S. benefited as well, earning funds that allowed her to move into a safer neighborhood.
Housing First – Sibley Simon shared his vision to build 200 permanent supportive housing units for the chronically homeless within the next few years – all without using government funds. He plans to create housing complexes throughout Santa Cruz County that would contain five to 20 units each. Half of the financing for these complexes would occur through bank debt, while the remaining 50 percent of the cost would be financed through new deferred bonds. Simon heads up development for the 180/2020 campaign, a plan to end chronic homelessness in Santa Cruz County by 2020. He is already speaking with investors interested in financing the initial Housing First project in Live Oak.
Habitat for Humanity Santa Cruz County – David Foster, director of Habitat for Humanity Santa Cruz County, noted that many seniors in Santa Cruz County are spending more than half of their income on their homes. His solution? Allow Habitat for Humanity to build small units behind their homes that seniors can either occupy or rent to others to provide extra income. If they move into the "granny units," they can receive extra income by renting out their current homes. This solution also helps Habitat for Humanity, as the organization seeks to continually build affordable homes despite skyrocketing land prices.
ruly – Chad Mulder noted that folks often don't have time to manage the photos on their phone, resulting in a slew of pictures, many of which are blurry, off-center or duplicates of one another. His company, ruly, hires women in developing countries to process customers' photos, organizing them as "klutter," "keepers" and "highlights" that receive special treatment. In the process, "harried parents" can organize their photos, while women in poverty-challenged areas receive digital jobs. Ruly already has staff in Nairobi, Kenya and plans to employe staff members in Cambodia as well. The company launched its beta version this year.
BioSolutions USA – David Bernick, an assistant adjunct professor of biomolecular engineering at UC Santa Cruz, has teamed up with a couple of his students to start a business that creates biofuel from agricultural plant waste. The aim is to reduce the earth's carbon footprint and rely on a sustainable propellant that can be created rather than pulled out of the ground. BioSolutions plans to create biofuel through a fermentation process that would include combining agricultural plant waste and salt-loving halophilic enzymes.
Civinomics – Manu Koenig of Santa Cruz-based startup Civinomics noted that the U.S. has struggled to get young adults ages 18 to 24 engaged in voting. He hopes to create this engagement by creating polls that will be attached to news articles. Various organizations and politicians could pay for these polls, which would be placed as ads on online news sites. The poll results would provide details about public viewpoints on various matters and could help inform the poll funders on policymaking.
Prize earnings for the three winners were as follows:
First prize – $17,100 total, including $2,000 cash, $5,000 in web hosting services from Rackspace, a $7,500 explainer video from It's Great Media + Marketing, a $1,600 IP audit conducted by IP Society, and $1,000 in legal services from Richter Law Offices.
Second prize – $6,300 total, including $1,500 cash, $3,500 in web hosting services from Rackspace, a $400 introductory video from It's Great Media + Marketing, $400 for copyright registration services conducted by IP Society, and $500 in legal services from Richter Law Offices.
Third prize – $4,150 total, including $1,000 cash, $1,500 in web hosting services from Rackspace, a $400 introductory video from It's Great Media + Marketing, $750 for trademark search services conducted by IP Society, and $500 in legal services from Richter Law Offices.
###
Tagged Santa Cruz New Tech Meetup