Companies
Santa Cruz New Tech Meetup knocks it outta the park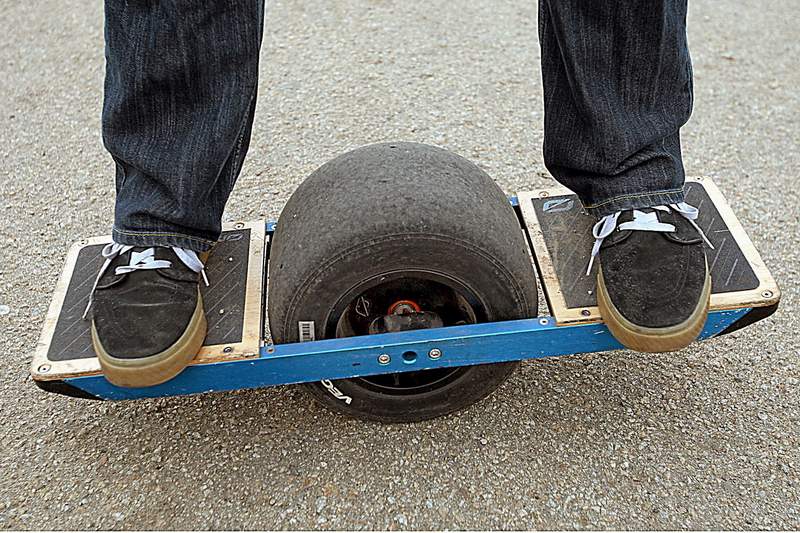 By Sara Isenberg
Editor-in-Chief, Santa Cruz Tech Beat
February 6, 2015 — Santa Cruz, CA
(Photo above: The Onewheel rides on an Italian go-kart tire. Credit: Dan Coyro — Santa Cruz Sentinel)
Last Wednesday's monthly Santa Cruz New Tech Meetup turned out to be the usual. I say "usual" as in the usual monthly fabulous, fast-paced, informative, must-attend event for local tech enthusiasts. As the meetup celebrated its 8th anniversary, I would describe this particular February event as "the usual" on steroids. It was sold out at 270 weeks before the event.
Sentinel writers Jondi Gumz and Stephen Baxter ably captured the highlights in front page coverage today. Dive in…
Doug Erickson, founder of the Santa Cruz New Tech MeetUp, predicts tech businesses in the city of Santa Cruz will grow from 500 to 600 in a year. He hosted a sold-out meetup Wednesday featuring startups from Mountain View and New York relocating and recruiting in Santa Cruz, an Irish firm that picked Santa Cruz for its second conference on drones and a startup with a team in Israel that decided Santa Cruz was the place to pilot a mobile service promising real-time answers from people close by. Continue reading…
A new mobile application called Vioozer is like "Twitter upside down," says its founder, David Hammel. A user asks a question, but rather than sending it out to the world with a Tweet, the person pins it to a location on a map. Pin the Del Mar Theatre on Pacific Avenue and ask, "How long is the line at the box office?" Another Vioozer user receives the question seconds later and answers anonymously, "The line is down the block." Or maybe, "The 8 p.m. show is sold out." Continue reading…
After raising $630,000 last year with a campaign on Kickstarter, Kyle Doerksen is moving his startup from Mountain View to Santa Cruz and hiring engineers, marketing and customer service staff. He said he's tired of commuting over the hill to Silicon Valley. He and his fiancee would rather be near the ocean. Doerksen, 32, originally from Canada, is the inventor of Onewheel, an electric skateboard that sells for $1,499. As he showed off Wednesday in front of the Santa Cruz Surfing Museum, Canadian visitor John Schwarz remarked, "That is way cool." Doerksen, who came to California to attend Stanford University, has devoted five years to his invention. Continue reading…
Santa Cruz Tech Beat published Let's talk about Blix BIkes on January 28, 2015. Blix CEO, Pontus Malmberg, also presented at this meetup.
Coming up in March
The March 4, 2015 Santa Cruz New Tech Meetup will be a special event held at the Del Mar with the focus on Cruz Cares: Pitching for Social Change. For more information, go to http://www.meetup.com/santacruznewtech/.
###
Tagged Santa Cruz New Tech Meetup