Companies
Cruz Cares Contestants, Panelists, Prizes Announced for April 6 Event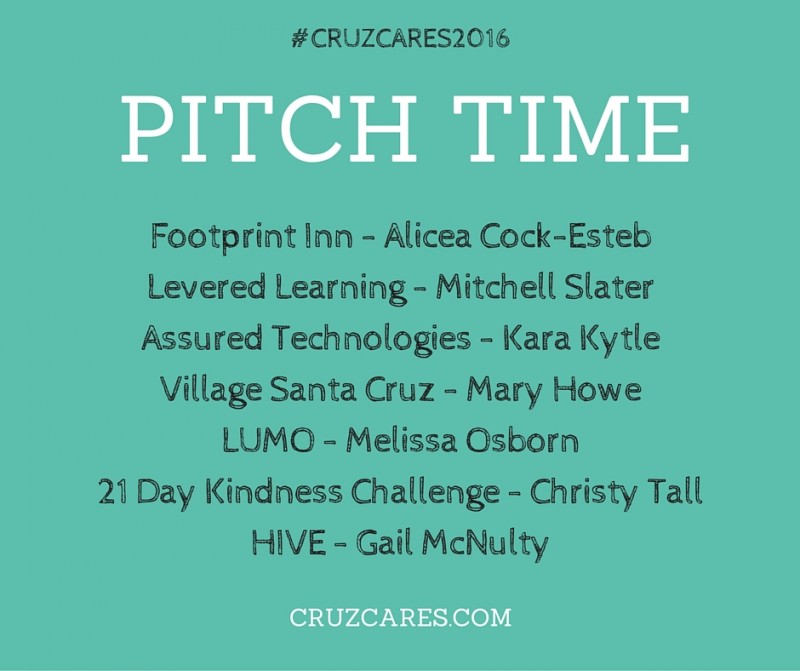 (Contributed)
March 24, 2016 — Santa Cruz, CA
On April 6, 2016, The Inspiring Enterprise and the Santa Cruz New Tech MeetUp will host the 2nd annual Cruz Cares: Pitch Contest for Social Ventures from 6:00-8:30pm at the Del Mar Theater in downtown Santa Cruz. Network from 6:00-7:00pm with Santa Cruz's non-profit professionals, technologists, and changemakers for this exciting and inspirational community event.
After the networking hour, listen to a panel discussion on Social Good, Technology, and Community. Panelists include Peter Meehan Newman's Own Organics, Lydia Dobyns New Tech Network, and Bud Colligan South Swell Ventures. Robert Singleton of Civinomics will moderate.
Out of 50+ applications, the top seven pitch contestants have been selected for the second round of review.
Six contestants will be selected to pitch on-stage on April 6 from the following contestants:
Alicea Cock-Esteb – Footprint Inn
Mitchell Slater – Levered Learning
Kara Kytle – Assured Technologies
Mary Howe – Village Santa Cruz
Melissa Osborn – LUMO
Christy Tall – 21 Day Kindness Challenge
Gail McNulty – HIVE
This year's judges are:
Jacob Martinez – DigitalNEST
Keri Waters – Calliope
Jim Brown – Community Foundation Santa Cruz County
Bud Colligan – South Swell Ventures
Claire Schneeberger – Monarch Media
The top three contestants will share prizes including: $5000 cash, a Pre-production Filming Package from Metastyle Films, Legal Assessment from Richter Law Offices, and a Web Design and Management Package from Iversen Design.
The organizers of the event have reported overwhelming support including the following organizations and businesses: City of Santa Cruz Economic Development Department, IP Society, Comerica Bank, Geo H. Wilson, Inc., Goodwill Central Coast, Monterey Bay Economic Partnership, Wynn Capital Management, Chowdahead Growth Fund, Book and Book, Monterey Bay Economic Partnership, Santa Cruz Tech Beat, and TriNet.
"I attended the first Cruz Cares to be a part of the energy and enthusiasm and left the event with tremendous excitement about what these entrepreneurs would accomplish and now my organization is sponsoring Cruz Cares because I want Goodwill's name to be in front of the most interesting, can-do people in Santa Cruz," says Ed Durkee, CEO Goodwill Central Coast.
As a fundraiser for The Inspiring Enterprise, you can purchase raffle tickets for $2.00 per ticket or 20 tickets for $20.00 for your chance to win an M1 Inboard, 4-tickets to the Hop N' Barley Festival, One-night stay at Hotel Paradox, and (2) Back Pro Plantronics headphones.
Purchase tickets for $25.00 at www.meetup.com/santacruznewtech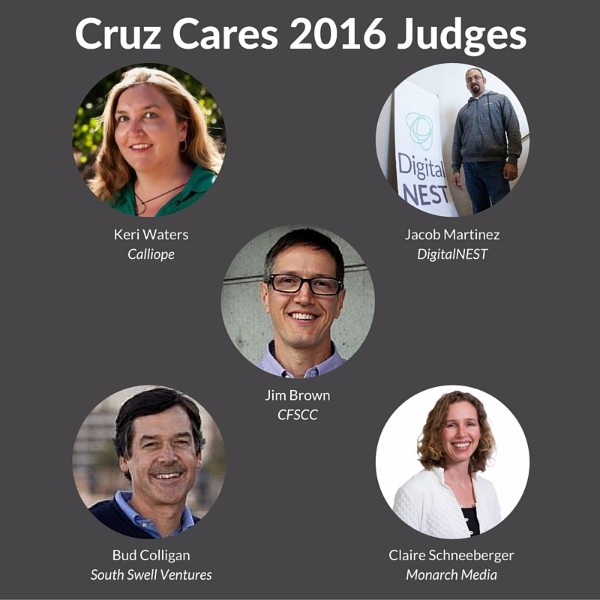 ###
Tagged Cruz Cares, Santa Cruz New Tech Meetup