Companies
CES: Plantronics Opens New Doors for Developers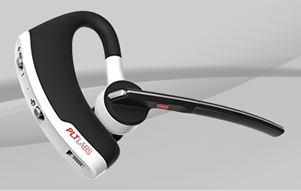 Introducing latest prototype device from PLT Labs: Wearable Concept 2

On January 5 at CES, Plantronics introduced its latest wearable prototype offering from PLT Labs, Wearable Concept 2 (WC2). This concept device builds off of its predecessor, Wearable Concept 1 (WC1), by adding several new capabilities for developers to explore and use as the base for future applications. The PLT Labs Wearable Concept platform was created to extend the company's flagship technology to new applications.
In addition to all the core WC1 capabilities, WC2 incorporates an always-on low power state that enables hands-free voice commands to interface with a variety of applications and devices, plus enhanced motion-tracking capabilities to enable comprehensive capture of device orientation in three-dimensional space. WC2 also features an NXP A700x secure authentication microcontroller which allows the headset to serve as a wearable multi-factor authentication device. Combined with a wealth of sensor data like compass heading, angular velocity and acceleration, and supported by a broad range of SDKs for mobile and desktop platforms, developers can explore and create real-world apps across a range of industries and verticals.
Wearable Concept 2 demonstrations featured during CES 2015 illustrate the many possibilities enabled by this updated platform.  These include:
Integration with KUBI, a telepresence robot from Revolve Robotics. Head tracking in WC2 can be used to enable hands-free remote multi-media collaboration to enable a variety of use cases such as telemedicine, distance learning, and unified communications.
Voice command solution for Lockitron, a leader in contextually-aware keyless entry. This demonstration features secure device-based identity, which helps to create a safer, more intuitive experience for managing entry for homes and controlled sites.
"We are pleased to improve upon the work we did for the original WC1. The WC2 adds new enterprise focused capabilities to our platform.  Our goal is to identify and build solutions with our partners and developer community that improve the workplace by joining enterprise infrastructure with our wearable technology," said Cary Bran, Vice President, New Ventures and Innovation, Plantronics. "Our demonstrations with KUBI from Revolve Robotics and Lockitron are great examples that showcase the vast potential of the WC2 platform."
Read original article here: http://newsroom.plantronics.com/press-release/us/plantronics-opens-new-doors-developers-latest-prototype-device-wearable-concept-2
###
Tagged Plantronics