Featured
Engineering a Microbe to Produce Biofuel from Cellulose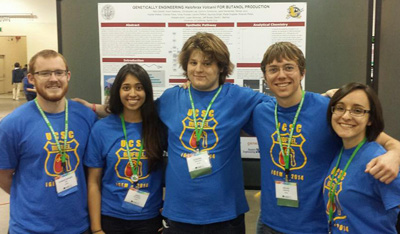 By Melissae Fellet
UC Santa Cruz
[Photo above: UC Santa Cruz iGEM team members posed with their poster at the iGEM Giant Jamboree in Boston, where they won a bronze medal. Left to right: Chris Lee, Jazel Hernandez, Dominic Schenone, Kevin Sweeney, and Renee Jocic.]
UC Santa Cruz iGEM team earns bronze medal in bioengineering competition
Renee Jocic, a senior biology major at UC Santa Cruz, has wanted to do undergraduate research since she was a freshman. Finding a spot in a professor's lab can be challenging, however, so Jocic created her own research experience. She co-founded a team of UCSC undergraduates to compete in an international synthetic biology competition.
"Synthetic biology is the idea that you're engineering life," said Rolando Perez, a senior in biomolecular engineering and the other co-founder of the team. "You're harnessing nature to do things nature's never done before."
The International Genetically Engineered Machine (iGEM) competition challenges students to use the techniques of molecular biology to build novel biological systems and operate them in living cells. The UC Santa Cruz team worked to engineer a microbe to produce biofuel from processed plant material. Six of the 14 team members, including Jocic, recently returned from Boston, where their project won a bronze medal in the 2014 iGEM competition (one of 59 bronze medals awarded).
David Bernick, a lecturer and researcher in biomolecular engineering at UC Santa Cruz, served as the team's faculty mentor. Bernick said biofuels can play a role in slowing climate change as one component of a carbon-neutral energy system. In theory, the carbon dioxide released when biofuels are burned would be offset by the carbon dioxide absorbed during growth of the plants used as raw materials.
Butanol
The UCSC team's goal was to engineer a microbe to produce butanol, an alcohol that can be used as biofuel, from cellulose, the main component of plant cell walls. Other scientists have engineered bacteria to produce biofuels, because they grow quickly and their genetics are easily altered to create new functions. High salt concentrations can be used to strip cellulose from plant matter, but then any microbes used to convert the cellulose into biofuel would have to be able to tolerate high salt concentrations.
Continue reading full article here: http://news.ucsc.edu/2014/12/igem-team.html
###
Tagged UC Santa Cruz