Events
Big Questions To Be Explored At UCSC Silicon Valley Campus Grand Opening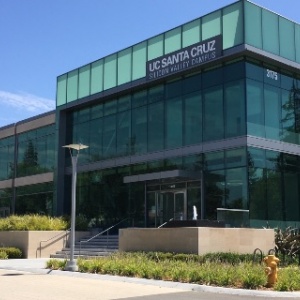 By Scott Hernandez-Jason
UC Santa Cruz
September 14, 2016 — Santa Cruz and Santa Clara, CA
(Photo above: The Silicon Valley Campus is enabling a stronger connection and greater interaction between faculty, students, and Silicon Valley industry. Contributed.)
The public is invited to the opening celebration of the UC Santa Cruz Silicon Valley Campus, a multidisciplinary teaching and research hub. The evening will include an open house, ribbon-cutting, reception, and TED-style talks.
Wednesday, September 28, 4-9 p.m.
4-7 p.m. Silicon Valley Campus open house
6-6:15 p.m. Ribbon cutting 2.0
6:15-7 p.m. Small bites reception
7-9 p.m. Evening program with research talks
UC Santa Cruz Silicon Valley Campus, 3175 Bowers Ave, Santa Clara, CA
Free but please register online.
Will sea level rise sink the Silicon Valley? Can games be socially relevant? Will we decode cancer?
Those questions and more will be explored during the grand opening of the new UC Santa Cruz Silicon Valley Campus.
The celebration, showcasing the multidisciplinary teaching and research hub, will feature an open house, a ribbon cutting, and a handful of engaging talks by leading campus thinkers.
"UC Santa Cruz and the Silicon Valley share DNA. We ask big questions. We don't accept conventional wisdom. We seek to make the world a better place through innovation," Chancellor George Blumenthal said. "This hub will enable our exceptional faculty members to work even more closely with the sharp minds in the area to address some of society's pressing challenges."
The event, free and open to the public, will run from 4 to 9 p.m. on Sept. 28 at the Silicon Valley Campus, 3175 Bowers Ave, Santa Clara. Anyone interested in attending should register online.
The evening program, beginning at 7 p.m., will feature talks by experts in space, humanity and technology, coastal sustainability, social-relevant gaming, and the quest to decode cancer.
The 15-minute talks, free and open to the public, will be from 7 to 9 p.m. They are:
How do stars turn into gold? Enrico Ramirez-Ruiz, professor and chair of astronomy and astrophysics
Can we teach computers to say what we feel? Pranav Anand, associate professor of linguistics, and Marilyn Walker, professor of computer science and graduate program director, computational media
Will sea level rise sink Silicon Valley? Gary Griggs, distinguished professor of Earth and planetary sciences and director of the Institute of Marine Sciences at UC Santa Cruz
Can Games be Socially Relevant? Erin Swink, creative director of the master's degree program in games and playable media
Can we decode cancer? David Haussler, professor of biomolecular engineering and scientific director at the UC Santa Cruz Genomics Institute
UC Santa Cruz has long had a presence in the Silicon Valley, a 45-minute drive from the main campus. Earlier this year, the campus purchased a 90,000 square-foot building in Santa Clara to support its ambitious growth plans for the region.
The Silicon Valley Campus is home to a professional master's program in Games and Playable Media, and students can also pursue a master's degree in Electrical Engineering. New programs in Serious Games and Human-Computer Interaction are planned to launch in 2017 and in 2018, respectively.
The Silicon Valley Campus is enabling a stronger connection and greater interaction between faculty, students, and Silicon Valley industry. It is also supporting Silicon Valley-facing research programs and educational, and research partnerships with other UCs and regional universities.
The Bowers Avenue building also houses UCSC Silicon Valley Extension, which for more than 40 years has provided high-quality continuing education and professional development for working professionals in the region. In 2014–15, UCSC Extension enrolled 18,000 students; 11,000 adult learners and 6,000 middle school and high school students through Scout from the University of California, an online program designed to meet the needs of first-generation, socioeconomically disadvantaged, and English-language learners.
###
Tagged UC Santa Cruz