Companies
Santa Cruz represents at White House Game Jam!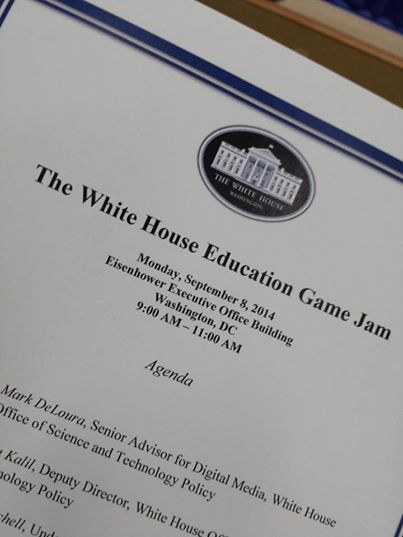 by Sara Isenberg
Publisher, Santa Cruz Tech Beat
"Got into a car today and said 'take me to the White House!' How awesome is that? Very awesome." — Graeme Devine, September 8, 2014
Spencer Lindsay left Santa Cruz quietly without a big hubbub — can we even talk about this? — but if you followed along on Twitter (#WHGameJam) you could see that two of the Santa Cruz's own were off having game developer fun at the White House Game Jam a weekend ago.
Graeme Devine and Spencer Lindsay — both work at Magic Leap, a Florida based company with a Santa Cruz game dev lab — participated in a 48 hour jam focused on education of 100 top game designer/developers called White House Game Jam. Along with teammates Michelle Childs and Ann-Marie Harbour, they created a build-your-own-planet astronomy simulator they called Rare Earth.
Watch the Rare Earth trailer:

"The more we explore video games as a teaching tool, the more opportunities we'll see to match kids and content with them the same way we work to match kids and content with traditional texts or video. To use video games well in the classroom, we need 'read' them, play them, and watch them. We need to equate lifelong learning with lifelong playing the same way we equate lifelong learning with lifelong reading. We have to do this ourselves to understand how our students might do the same for themselves." — Chad Sansing, Education Advisor at the jam.
A USA Today article, which calls out the Santa Cruz based team, says:
"The event was unprecedented — it was the first ever sponsored by the White House that focused specifically on education. Following President Obama's 2011 call for educational software 'as compelling as the best video game,' 23 teams rapidly prototyped designs that tackled subjects ranging from math and spelling to science and history."
More about WH Game Jam:
Tagged Graeme Devine, Magic Leap, magicleap, White House Game Jam