Events
Event Santa Cruz celebrates one year anniversary on September 18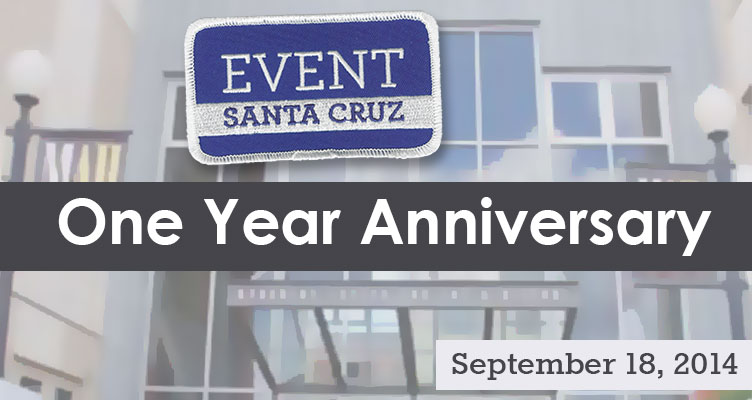 Event Santa Cruz invites the Santa Cruz community to help celebrate their One Year Anniversary on Thursday, September 18, 2014, at The MAH with this lineup of speakers:
Jeremy Neuner : NextSpace
Eric Johnson / Traci Hukill : HillTromper
David Reynolds : Thieves
Lise Quintana : Lithomobilus
Suna Lock  : Stripe
Timerie Gordon : Nielsen Studios
Casey Protti : BookShop Santa Cruz
James Allen :  Allterra Solar
Bob Cagle : productOps
Everyone is invited to network, and to celebrate before the event:
5:15 — Mingle, socialize, hobnob, rub elbows…
5:45 — Santa Cruz Chamber Ribbon Cutting
6:45 — Event Santa Cruz
Tickets are $10. Purchase online.
by Ethan Oates
Santa Cruz Life
Last fall Matthew Swinnerton started Event Santa Cruz as a way to showcase Santa Cruz businesses and the people behind them.
One year later Event Santa Cruz is about to celebrate with their biggest event yet.
The Event Santa Cruz One Year Anniversary event is Thursday, September 18 at the MAH, and it features an impressive lineup of speakers, a ribbon cutting with the Santa Cruz Chamber of Commerce, networking, and food and drinks courtesy of Pono Hawaiian Grill, Brew Cruz, and Allterra Solar.
In the first year Event Santa Cruz gave local business owners, and entrepreneurs of all types, a chance to gather once a month, share their stories, inspire, get inspired, and strengthen the local business ecosystem in the process.
When asked what went well, and maybe not so well, during the first year, Swinnerton said, "The highs were the individual moments, the speakers who put the effort into making amazing short presentations. It's not an easy thing to do for most people. The speakers are there with nothing to hide behind, just them, a microphone and a spotlight."
It's hard for Swinnerton to name a favorite event during the first year, but a few did stand out in his mind:
"I really liked our first Extreme Sports Entrepreneur night, The Ted Holladay Roast, The Ian Bell shows, and The NEXTies. The list can really go on and on. I am not just saying this, but I think the Event Santa Cruz One Year Anniversary Night on Sept. 18th is going to be the big one though."
Continue reading full article here: http://santacruzlife.com/event-santa-cruz-one-year-anniversary-sep-18-2014/
For more information:
###
Tagged Event Santa Cruz, Santa Cruz Life