Companies
Q&A: Matthew Swinnerton on The Titans of Tech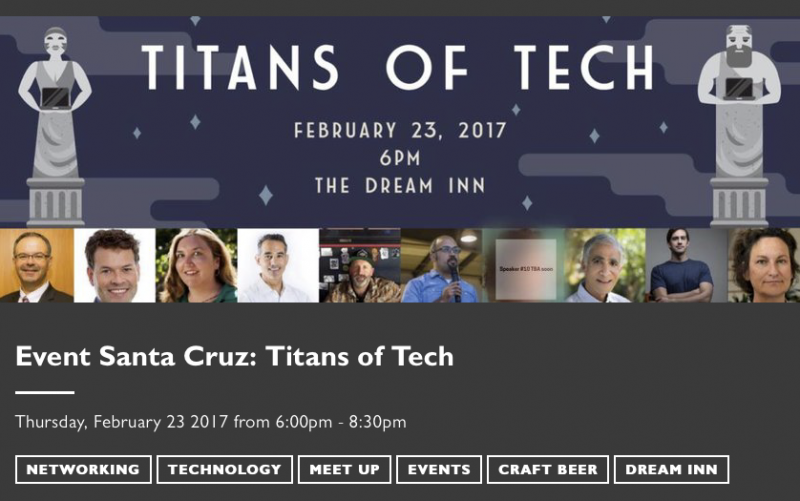 By Sara Isenberg
Founder, Publisher, Editor-in-Chief, Santa Cruz Tech Beat
February 9, 2017 — Santa Cruz, CA
Ten titans talking from the heart
I had the opportunity to touch base with Matthew Swinnerton of Event Santa Cruz about the upcoming event, Titans of Tech. Here's the scoop.
Titans of Tech
Feb 23, 2017, 6-8:30pm
The Dream Inn, Santa Cruz
SCTB: You've got a special — well, they're all special — Event SC event coming up called Titans of Tech. Tell us about it.
MS: I have actually been holding off on doing an event themed around tech. We have been doing our monthly events for over three years now and I have not done one event around tech. I feel tech in Santa Cruz is covered very well already by other events, especially Doug Erickson's Santa Cruz New Tech Meetup. That being said, I have always wanted to do an event where we hear the back story of some of our local Titans of Tech. I want to hear why they do what they do. So that's what we are going to get, ten titans talking from the heart.
SCTB: Who are the featured speakers?
Ken Kannappan, Plantronics
Ryan Evans, Inboard
Keri Waters, Calliope Waterworks, Inc.
Sol Lipman, Ya Doggie
Jacob Martinez, Digital NEST
Toby Corey, SolarCity/Tesla
Peggy Dolgenos, Cruzio Internet
Drew Meyer, Amazon Web Services
Mohamed Abousalem, UC Santa Cruz Office of Research
Margaret Lawrence Rosas, Looker
SCTB: Ya Doggie isn't tech, at least yet. Is Sol going to reveal something? This is generally the same cast of characters. That said, folks who aren't typically at other local tech events may not be familiar with them. You expressed recently that you wanted this event to be "different." How so?
MS: I actually have no idea what Sol from Ya Doggie is going to talk about. All I do know is that Sol is always entertaining. I make it a point when I reach out to our speakers to not give them much direction. I feel if I do give them direction then their talks are not as genuine as if I just give them a very simple objective. For this event I just told our speakers to talk about why they do what they do and what is their vision for the future of Santa Cruz tech. That is all. They have four minutes each to do just that. And not a second more! No slides, no power point, just them with a microphone!
SCTB: That's a long list of speakers. What's the evening's agenda?
MS: The agenda is the same as every month. We start off at 6pm with food and drinks. Then at 7pm we start the talks and live music performance. The speaking portion usually last for about an hour. It's a very fast paced event. Since we have so many speakers this month we are not giving any of our speakers any leeway. Again, four minutes and not one second more!
SCTB: What's coming up next for Event SC?
MS: We have so many events lined up. I just looked at our upcoming events that we are involved in / organizing and we have nine events coming up in the next six months. One of them that I am really looking forward to is our big NEXTies event coming up March 24. It's like the Santa Cruz Oscars for doers in our town. It's a real special event to us because it encapsulates what we do at Event Santa Cruz, showcase and give a voice to amazing people in Santa Cruz County that are doing special things. It's kinda our thing. 🙂
###
If you wish to republish this article, please follow our Terms of Use.
###
Tagged Event Santa Cruz