Companies
Cosmic opens new design studio in downtown Santa Cruz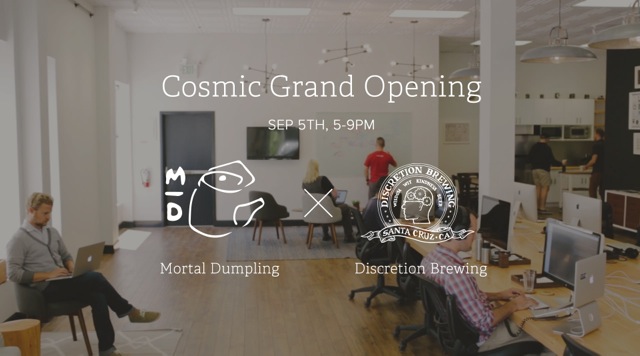 by Matt Steele
Cosmic
Cosmic Grand Opening
115 Cooper Street, Santa Cruz, CA 95060
Friday, September 5, 2014, 5 – 9 PM
Local design agency Cosmic has opened their new studio at 115 Cooper Street in downtown Santa Cruz. Located in the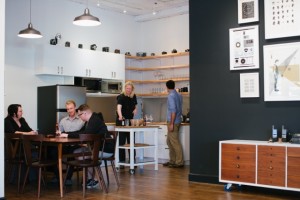 historic Leonard Building at the corner of Cooper and Front streets, the studio conveys a modern design aesthetic while honoring the building's legacy. The building opened in 1894 as Leonard's Saloon, with rooms to rent upstairs. Rebuilt to the exact specifications after the 1898 fire that destroyed most of downtown, it has since served as the Santa Cruz Courthouse, a speakeasy, and more recently housed the Santa Cruz Weekly newspaper, then known as Metro Santa Cruz.
"We returned downtown to get back to our NextSpace roots and to strengthen our connection to the growing Santa Cruz design and tech scene," says Cosmic Founder, Eric Ressler.
A team of designers, developers, storytellers and strategists, Cosmic has created strategically-focused brands, websites, and applications for tech companies throughout Silicon Valley and San Francisco. They are also the design studio behind Santa Cruz organizations Atlas Geotechnical, Bloofusion, Testorff Construction, Kirby School, UCSC's Grateful Dead Archive Online, the Santa Cruz Symphony, and Stripe, among others.

Launched several years ago by Ressler as a solo entrepreneur at NextSpace, Cosmic initially expanded into the Artwork Space on the west side. The move back to downtown allows for further growth and provides a space for design-focused events.
"We're stoked to have a space where we can host gatherings for the local design and tech community," says Ressler. "We're excited to open our doors to colleagues, clients, neighbors, fellow NextSpacers, and the Santa Cruz community."
Their inaugural event is the studio's Grand Opening, on Friday, September 5, 5 – 9 PM. Please RSVP.
Future events are planned in conjunction with the Santa Cruz Symphony, Santa Cruz Film Festival and Thieves Clothing.
The Grand Opening will feature savory eats by Mortal Dumpling paired with local beer on tap by Discretion Brewery. Carlos Vargas, brother of Cosmic designer Edgar Vargas, will be in the house, keeping the music bumping. Of course, the entire Cosmic crew will be on hand to meet, greet, and give micro-tours.
###
Tagged Cosmic