Companies
We Are Tuul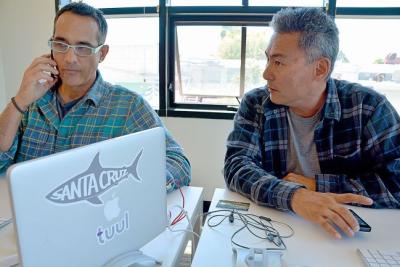 by Wayne Tsuchitani
Tuul
[Editor's note: Santa Cruz Tech Beat published a previous article about Tuul on July 5, 2014.]
Reimagining Customer Support
Earlier this year my co-founder, Toby Corey, and I were batting around ideas about how we could solve the "gauntlet" facing the solar industry. Toby had just finished up a stint as Chief Revenue Officer with SolarCity, the largest full service solar company in the USA, and was convinced we could solve their (and the industries) most significant growth issue – navigating customers through the installation process. This three-to-six month ordeal is wrought with pitfalls that result in customer cancellations, installation delays and higher customer acquisition costs.
We were convinced that ineffective communication was at the heart of the problem and set out brainstorming different solutions. As we sat in Toby's living room researching and discussing different ideas we kept losing Internet connectivity. Four or five calls – each lasting at least an hour, two trips down to the company's store to swap out modems, and more than a few days wasted, we had our epiphany: the need for fast, efficient, and hassle-free customer support that transcends industries.
Just hassle-free help
We started Tuul with a very simple goal – to evolve customer service. While the world has gone mobile, customer support hasn't evolved much in 20+ years. Tuul's value proposition to consumers is the ability to use one native mobile app to connect with any service provider directly. No looking for the phone number. No phone trees to navigate. No being put on hold. No authenticating your account multiple times. Just hassle-free help. For business, the ability to efficiently offer assistance in a more cost effective manner while providing a better customer experience. Our service will be free to consumers – they need only download the App when we publicly release it early 2015. Small and medium sized business can use the Tuul Group solution for free or for a small annual fee depending on the complexity of their requirements and need for analytics. Enterprise and Alliance customers pay for our SaaS solutions on a per-seat or volume basis.
Tuul is designed for large, multi-dimension organizations requiring the ability to configure rich SLAs (service level agreements), handle workflow and interactions across large and geographically dispersed teams, and develop rich analytics. As an example, we are in discussions with a Fortune 100 company that counts over 35% of American households as current customers. The company has multiple business units utilizing disparate and, necessarily, very focused software solutions. Providing a unified solution to customers requires coordinating activities across multiple entities as well as a network of independent affiliates. Phone, fax, and emails are often relied on to solve a customer's problem. This process is lengthy, costly, and the experience less than desirable as reflected in their consistently low CSAT, customer satisfaction scores.
Tuul's Alliance SaaS solution can run sidecar to existing ERP and CRM systems and interact with them on an as-necessary basis. The CSR (Customer Support Representative) has the ability to focus the collective efforts of the organizations and affiliates to solve the customer's issue using one interaction platform. Tuul Alliance will not only provide the communication conduit between the CSR and consumer, but will also coordinate all of the internal activities necessary to solve the problem. Through the use of our analytics tools, the company will have real-time access to performance metrics and be able to create longer-term efficiencies within their organizations. Depending on the company's ultimate requirements, Tuul Alliance also has the ability to serve as the unified system-of-record for the lifecycle of the customer's interaction.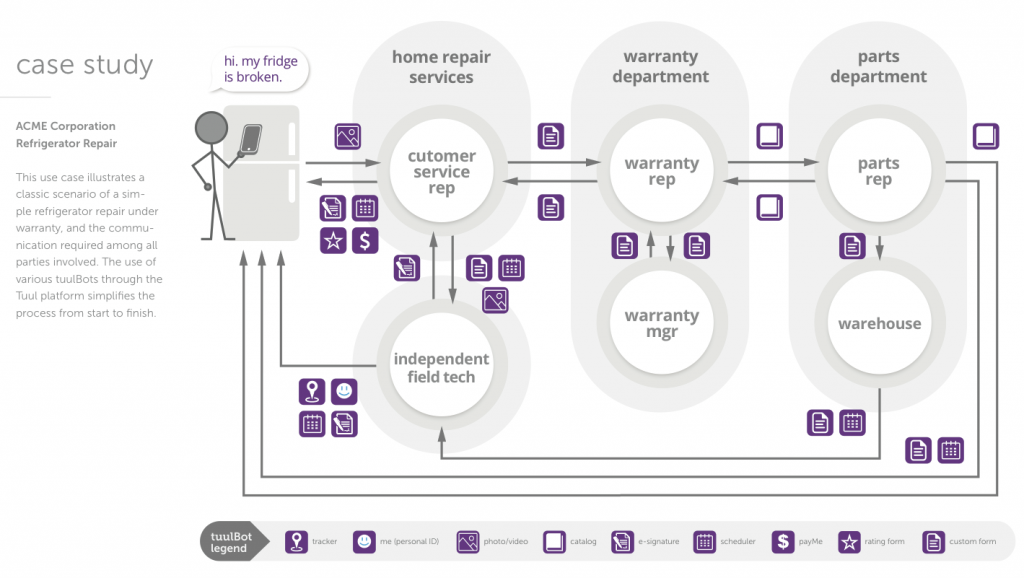 Finding partners, raising seed financing, filing patents, and hiring
Armed with an idea, we set out meeting with potential partners and anyone else from whom we could learn. Our message resonated universally and one of our potential partners mentioned us to their institutional investors (our plan had been to self-fund through the customer beta cycle). One meeting later with Greycroft and Raine Venture Partners and we were off to the races. In the few months since conceiving of the idea we've raised $2.4 million in Seed financing, filed two patent applications for our core technologies, hired a core team, are rapidly developing our product, and have signed up a handful of early Beta customers. Our plan is to launch a limited Beta program this Fall and publically launch our service in the first half of 2015. We plan to seek Series "A" financing shortly thereafter.
A natural home
Santa Cruz is a natural home for Tuul. I'm a fourth generation Monterey Bay Area resident and Toby's been here since 1998. The area supports a diverse and highly skilled workforce in search of compelling opportunities and we pride ourselves on being able to think, "outside-of-the-box," in searching for talent and in our basic approach to opportunities. We believe that the significance of our mission and opportunity to help create a successful and lasting company will resonate with not only the large number of very talented minds drive the hill everyday, but also with those from Valley seeking opportunity with a company doing more than selling ads or disappearing photos. I gave up on driving the hill years ago. We're hoping Tuul can give that opportunity to quite a few Santa Cruz Tech Beat readers in the coming years.
###
Tagged Tuul