Featured
UC Santa Cruz Internet access project wins University of California IT award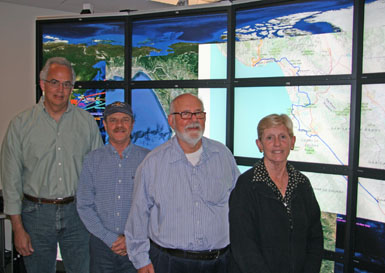 by Guy Lasnier
UC Santa Cruz
A UC Santa Cruz project to bring broadband Internet services to underserved communities in Santa Cruz and Monterey counties has won a University of California award for information technology.
The Connected Central Coast project will extend a fiber-optic Internet backbone 91 miles from Santa Cruz into the Salinas Valley and also provide a reliable backup to the single fiber-optic line that connects the campus to Silicon Valley.
The project is one of 10 winners of UC's 2014 Larry L. Sautter Award for using information technology to make university operations more effective and efficient to better serve faculty, staff, students, and patients. It is one of three to win a golden award.
UC Santa Cruz partnered with private industry to win a $10.6 million state Public Utilities Commission grant in April to build the fiber-optic network that will enable high-quality network connectivity on campus and along the Central Coast down to Soledad.
Brad Smith, UCSC's director of research and faculty partnerships in Information Technology Services, said the state was seeking proposals to increase broadband access to areas with poor service. The university, meanwhile, saw the need for another high-speed information pipeline so it wasn't reliant on a single line coming over the hill from Sunnyvale.
That line was installed four years ago in a collaborative effort with the university and others, and linked the UC Santa Cruz campus to the California Research and Education Network (CalREN).  The new fiber-optic line will be installed over the next two years
To win the grant, Smith and Jim Warner, a UCSC network engineer, visited Monterey County communities, tested Internet service levels and completed surveys and a data analysis to demonstrate that existing networks were not providing service at a level that matched their coverage claims.
Established in 2000, the IT award is named for Larry L. Sautter, a UC Riverside associate vice chancellor for computing and communications who died in 1999.
###
Tagged UC Santa Cruz