Companies
Seaside launches OpenCounter to help new businesses
by Larry Parsons
Monterey Herald
[Editor's note: OpenCounter was built through a partnership between the City of Santa Cruz, CA and Code for America. Its growth has been supported by the John S. and James L. Knight Foundation and the Code for America Accelerator. The city of Scotts Valley expects to start OpenCounter in August.]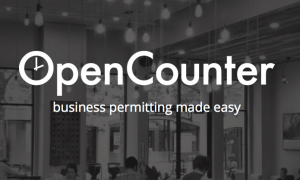 People starting a business in Seaside don't have to schlep to City Hall to get all the information about fees, permits, sites, zoning and the like.
Starting Thursday, when the city's new OpenCounter: Seaside was launched, answers to those questions and more became available online any time, day or night.
"It walks them through the process," said Lisa Brinton, city economic development services manager. The exercise enables users to go through the process of filling out an application to get an idea of how much the process would cost and what steps would be needed.
"The process asks questions that would be on our application … and then provides the answers," Brinton said.
With the online resource for new or relocating businesses, Seaside joins several other cities on the Central Coast using OpenCounter, which was developed by Santa Cruz and Code for America in 2012. Pacific Grove, Salinas and Gonzales also have sites.
Continue reading the complete article here: http://www.montereyherald.com/localnews/ci_26105511/seaside-debuts-site-help-new-businesses
For more information: http://opencounter.us
###
Sara Isenberg publishes Santa Cruz Tech Beat for the benefit of the extended business and technology community. When she is not volunteering her time for the tech scene, Sara makes her living by managing software projects, web strategy planning, and providing development team services (including account management, vendor management, strategic partner management, beta project management, referrals to qualified technical team members, and more). Please visit her website: Sara Isenberg Web Consulting & Project Management, or contact Sara by email if you have any project management, account management, or Development Team leadership or service needs.
Tagged OpenCounter, Seaside