Santa Cruz Tech Ecosystem
Scotts Valley OpenCounter to help expedite permitting process
by Calvin Men
Santa Cruz Sentinel
Future Scotts Valley entrepreneurs will have an easier time opening businesses as the city plans to utilize OpenCounter, an online portal that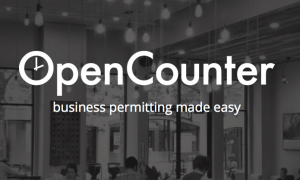 leads them through the processes of permitting, licensing and fees.
On Wednesday, City Council members heard a presentation about the program, which is expected to begin in August.
OpenCounter would allow potential business owners to navigate the portal and discover what steps are needed, Co-founder Peter Koht said.

Koht used Malone's Grille, a restaurant in Scotts Valley, as an example. Koht played a video showing the process owners would go through. Users, who won't need to log in, can enter information such as square footage, number of employees or the number of fire sprinklers. From there, they're connected to the necessary resources and agencies that need to be contacted as a part of the process.
The city, which was an early financial supporter of OpenCounter, was given a $5,000 annual rate, less than half the cost of what the company would normally charge, Koht said.
"That's a deal," councilwoman Stephany Aguilar said.
Koht also mentioned the portal's uses in the Town Center Project. The project is expected to bring larger businesses to the city, including a larger space for Safeway, whose development branch is spearheading the project.
"As the Town Center Project comes online, this could be a good resource to fill those ancillary spaces not filled by the anchor stores," Peter Koht said.
Read original article here: http://www.santacruzsentinel.com/News/ci_26079840/Scotts-Valley-council-hears-about-program
For more information: http://opencounter.us
###
Sara Isenberg publishes Santa Cruz Tech Beat for the benefit of the extended business and technology community. When she is not volunteering her time for the tech scene, Sara makes her living by managing software projects, web strategy planning, and providing development team services (including account management, vendor management, strategic partner management, beta project management, referrals to qualified technical team members, and more). Please visit her website: Sara Isenberg Web Consulting & Project Management, or contact Sara by email if you have any project management, account management, or Development Team leadership or service needs.
Tagged OpenCounter