Companies
Lithomobilus Ebook Platform Enables Multi-Threaded Narratives
by Lise Quintana
(From BookBusinessMag.com)
What is Litomobilus and how does it work?
I founded Narrative Technologies in order to develop the ereading platform Lithomobilus to tell stories with multiple points of view and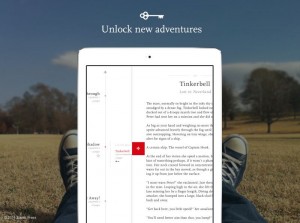 multiple timelines. Zoetic Press was created to showcase the platform with its first out-of-copyright title, Alice's Adventures in Wonderland. Within this classic narrative, the reader has access to related add-on content: new original writing and previously published commentary.
What problem are you solving? How are you disruptive and innovative?
Here's what we're making possible: a) a platform for authors who create multi-threaded narratives, b) an app for readers who consume rich literary stories and want to delve deeper, and c) direct contact for publishers with readers when new content is available. Add-on content in a book or narrative — much like DVD extras — might include commentary, author notes, or other relevant annotations. The reader is offered the expanded content and does not buy the entire book again.
How did you come up with this idea?
As a writer, I found no existing platform that could display multiple narrative threads and allow the reader control over the story's direction. I went to a Genghis Khan  exhibit in which you could follow the timeline from different characters' viewpoints. Six touchscreens throughout the exhibit showed icons for a farmer, a politician, a woman, a soldier, a bureaucrat, and a priest; and visitors could see how Genghis Khan's reforms affected different strata of society. This nonlinear experience resonated with me and how I write. I basically developed that non-linear style for my own needs and discovered a broader audience.
Continue reading the full article here: http://www.bookbusinessmag.com/blog/lithomobilus-ebook-platform-enables-multi-threaded-narratives
For more information: http://lithomobilus.com
###
Sara Isenberg publishes Santa Cruz Tech Beat for the benefit of the extended business and technology community. When she is not volunteering her time for the tech scene, Sara makes her living by managing software projects, web strategy planning, and providing development team services (including account management, vendor management, strategic partner management, beta project management, referrals to qualified technical team members, and more). Please visit her website: Sara Isenberg Web Consulting & Project Management, or contact Sara by email if you have any project management, account management, or Development Team leadership or service needs.
Tagged Lithomobilus, Narrative Technologies