Companies
Lithomobilus Launches with Zoetic Press App
(contributed)
New eBook Platform Allows Readers To Delve Deeper Without Distraction
[Editor's note: In a related feature article, Santa Cruz Tech Beat published Pitch at TechRaising 2012 turns into Lithomobilus in January 2014.]
As more and more readers are turning to ebooks, Santa Cruz based Narrative Technologies has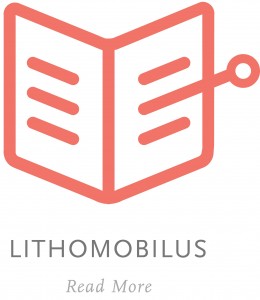 developed Lithomobilus, a flexible ebook platform with an innovative design and navigation to showcase new forms of multi-threaded narratives, as well as traditional linear books.
CEO Lise Quintana founded the company with a clear intended objective: "We value the existing publishing paradigm and want to partner with publishers so they are able to evolve using technology wisely for their needs."
Lithomobilus offers benefits for publishers, authors and readers alike, including:
Advantages for readers who enjoy delving deeper: from multiple character perspectives to commentary to side narratives.
Opportunities for authors to include additional content now or later, such as annotations and related texts.
The ability for publishers to be in direct contact with customers by exposing new content to readers within the app even after a book has been published.
Features consist of:
In-line hyperlinks — allows readers to keep their place in the text while accessing additional or alternate content.
Choice — allowing the reader control over the story's path.
Scrolling vertically — in lieu of page-format reading.
Lithomobilus is now partnering with publishers to license their own brands for iOS devices, starting with iPads. The platform is easily customized for anthologies, backlist, revised editions, and for authors who write richly developed characters and plots expressing different perspectives. Publishers and authors earn additional revenue for in-line, in-app purchases; and readers pay only for the new content related to ebooks already purchased.
Lithomobilus is developed with new functionality that values reading rather than fortifying a book with multimedia enhancements as replacements for reading.
"Lithomobilus plans to change the way we interact with literature in a digital medium."
— Book Business magazine
Zoetic Press uses the Lithomobilus platform to publish new interactive fiction and nonfiction, and is proud to launch NonBinary Review, a themed, quarterly literary journal. Issue #1: A Grimm Collection of Modern Fairy Tales is available now. Included in this issue will be the original work of 36 writers in line with the existing fairy tale that inspired the work. Gracing the cover is vibrant art by Mandem MythPunk Art Noir; authors include a Pushcart winner and numerous nominees.
Download the free Zoetic Press app from the iTunes App store and start experiencing a whole new way to reading.
# # #
Lise Quintana is the CEO and founder of Narrative Technologies, which uses interactive and hypertext narrative tools to publish new kinds of literature. Using her own experience as a writer, she has founded Zoetic Press and the new e-reader platform Lithomobilus. Quintana was formerly the editor-in-chief of Lunch Ticket, a literary journal of Antioch University Los Angeles. Previously she worked as a writer and project manager at various hardware and software companies in Silicon Valley. Quintana is on the Board of Trustees for Antioch University Los Angeles and formerly on the Board of Directors for Friends of the Santa Cruz Public Library.
###
Sara Isenberg publishes Santa Cruz Tech Beat for the benefit of the extended business and technology community. When she is not volunteering her time for the tech scene, Sara makes her living by managing software projects, web strategy planning, and providing development team services (including account management, vendor management, strategic partner management, beta project management, referrals to qualified technical team members, and more). Please visit her website: Sara Isenberg Web Consulting & Project Management, or contact Sara by email if you have any project management, account management, or Development Team leadership or service needs.
Tagged Lithomobilus, Zoetic Press