Santa Cruz Tech Ecosystem
Award-winning games use computer technology to explore interactive fiction
by Melissae Fellet
UC Santa Cruz
18 Cadence was picked by Kirkus Reviews as a Best Book App of 2013, and the Independent Games Festival gives it an Honorable Mention in the Nuovo category!
Aaron A. Reed is a storyteller for whom writing involves both words and computer code. Currently working toward his Ph.D. in computer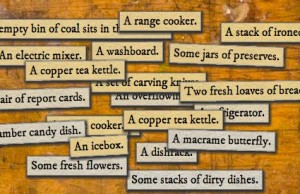 science at UC Santa Cruz, Reed is already a prominent author in the world of interactive fiction, merging literary storytelling techniques with the technology of computer games.
"Telling stories with words is one of the oldest ways that we have of telling stories, and telling stories with games is one of the newest ways," Reed said. "Some of this stuff we figured out how to do over the last several thousand years, so what of that knowledge can we bring into this new ground?"
Reed came to UCSC in 2009 for the Digital Arts and New Media program, earning his M.F.A. in 2011. His initial exploration of new ways of storytelling through games had two goals: to involve the reader in the outcome of the story and to develop an interactive story in a way that didn't require a Ph.D. in computer science. Eventually, however, he decided that advanced work in computer science would give him the best tools to address some of the storytelling challenges he was facing as a writer. So he moved on to UCSC's computer science graduate program, working with faculty in the Expressive Intelligence Studio at the Center for Games and Playable Media.
Continue reading full article here: http://news.ucsc.edu/2014/06/aaron-reed.html
For more information:
###
Sara Isenberg publishes Santa Cruz Tech Beat for the benefit of the extended business and technology community. When she is not volunteering her time for the tech scene, Sara makes her living by managing software projects, web strategy planning, and providing development team services (including account management, vendor management, strategic partner management, beta project management, referrals to qualified technical team members, and more). Please visit her website: Sara Isenberg Web Consulting & Project Management, or contact Sara by email if you have any project management, account management, or Development Team leadership or service needs.
Tagged 18 Cadence, Expressive Intelligence Studio, interactive fiction, UC Santa Cruz