Companies
Zoetic Press launches app for iPhone & iOS 8

by Lise Quintana
CEO at Narrative Technologies Inc.
No iPad? No problem! Zoetic Press has you covered!
We at Zoetic Press have been working around the clock (and around here, that's something like 37 hours a day) to bring the Zoetic Press app for iPhone and iOS 8.
The Zoetic Press ebook reader showcases the capabilities of Lithomobilus, an ebook platform that provides a variety of new narrative possibilities. Authors can tell bigger, richer stories, making it easier for readers to get more of what they love out of books: more characters, more details, more commentary, more of what makes the book addictive.
If you've been waiting for the iPhone version of the Zoetic app so that you could read the newest, most innovative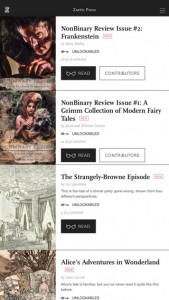 fiction anywhere and everywhere (except in the car – c'mon, guys, be responsible), your wait is over. The Zoetic Press app is now available for any iPhone running iOS 7 or 8. Why are you still reading this – go download!
And, to add compliment to benefit, when you get the newest version of the Zoetic app, you'll also get the newest issue of NonBinary Review. We've packed Mary Shelley's Frankenstein with new stories and poetry sure to expand your understanding of this classic tale.
Come with us into the future – we're waiting for you!
Find Zoetic Press app in iTunes Store: https://itunes.apple.com/us/app/zoetic-press/id808841872
###
Tagged Zoetic Press