Companies
Completely Cut Off
by James Hackett
Cruzio
Reflecting back to 2009 when Santa Cruz internet, cell phones, landlines, ATMs and even for a while 911 services were disabled
Five years ago today, on April 9th 2009, Santa Cruz awoke to a world completely cut off from the continuous, uninterrupted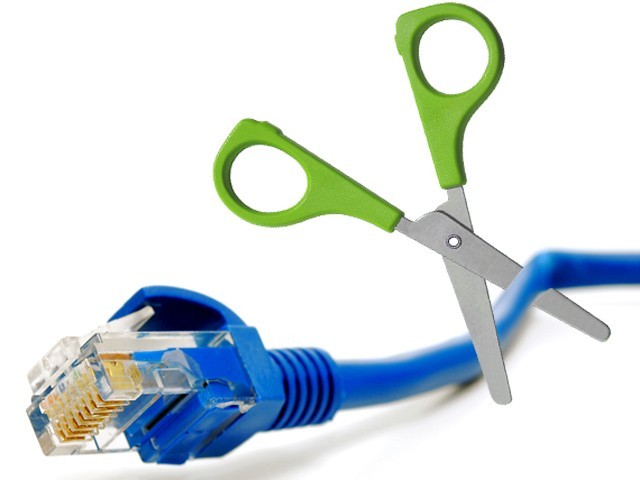 communications we are now all so used to. To this day we don't know for sure what happened (despite the $250,000 reward offered) but, as best anyone can figure, sometime in the early hours of the morning vandals took a chainsaw to AT&T's fiberoptic backbone out of the county — and everything went dark.
Internet, cell phones, landlines, ATMs and even for a while 911 services were disabled. Cruzio's tech support team scrambled immediately and by dispatching an intrepid engineer with a laptop and cell phone, we ended up getting a signal in Moss Landing and were able to update the Network Status page and get in touch with our contacts at AT&T.
Desperate for cell signal
Our downtown office (back then we were still at 903 Pacific Avenue) became an information center for folks wandering downtown, desperately trying to get a cell signal. As services started to come back online throughout the afternoon and night, many people were asking how this happened. At Cruzio we were asking what's next.
"That was the day everything changed for us," says Cruzio's Technology Services Manager Chris Frost. "We knew we needed to build our own, completely independent and redundant Santa Cruz broadband network."
The next day, Cruzio began the projects that would lead to us acquiring a wireless ISP, connecting our own fiberoptic connection and completely renovating and relocating to our new high-bandwidth headquarters at 877 Cedar St, downtown Santa Cruz.
Huge strides in broadband infrastructure and redundancy
Today there are multiple redundant Internet paths out of the county, and the city and county have taken huge strides in prioritizing broadband infrastructure. Cruzio is housed in a state-of the-art facility downtown with power and Internet backed up to the hilt, our servers on site, our own fiber connection humming with local traffic and our wireless network connecting hundreds of homes and businesses. The affordable 100 Mbps connections we predicted  delivering a year after the cut, are now available in many areas of the county  and that network is growing fast.
Five years later
Santa Cruz County has always been relatively under served compared to our neighbors over the hill. But by working together with local government, local community technologists, UCSC and groups like the Central Coast Broadband Consortium, Cruzio is planning several large fiber builds in the coming months that would vastly strengthen our county's broadband architecture, while giving more and more homes and businesses access to next-generation speeds.
"Five years on, so much has changed, says Peggy Dolgenos, Cruzio's CEO and co-founder. "There's a lot still to do, but we've now begun to build the network that will support Santa Cruz technology and business for decades to come."
Related: Santa Cruz Sentinel, Santa Cruz County in a black hole amid phone, Internet outage, April 10, 2009: http://www.santacruzsentinel.com/ci_12115324
###
Sara Isenberg publishes Santa Cruz Tech Beat for the benefit of the extended business and technology community. When she is not volunteering her time for the tech scene, Sara makes her living by managing software projects, web strategy planning, and providing development team services (including account management, vendor management, strategic partner management, beta project management, referrals to qualified technical team members, and more). Please visit her website: Sara Isenberg Web Consulting & Project Management, or contact Sara by email if you have any project management, account management, or Development Team leadership or service needs.