Events
Event Santa Cruz reflects on past honorees of The Nexties
by Sara Isenberg
Publisher, Santa Cruz Tech Beat
Event Santa Cruz — The  Nexties Night
April 16th, 7:00 pm
The Nick
Come reflect at a special Event Santa Cruz evening with past honorees of The Nexties as we hear them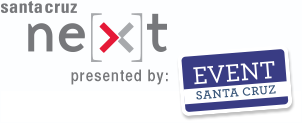 speak about their impressions of The Nexties, and what they have been up to since they were honored.
Since you're reading this in Santa Cruz Tech Beat, let me tell you the tech angle of three of the speakers.
You wouldn't know if from her title, but Nina Simon is the consummate geek, and is well known and highly regarded in the local tech community. In addition, she's a prolific blogger, an author, and an innovator.
Darrin Caddes is a product/industrial designer who brings years of automotive and motorcycle design chops to the wearable tech world of Plantronics.
Jacob Martinez is currently booting up Digital Nest, a soon-to-open hip, cool, and colorful technology workforce development center that will be located in Watsonville. Read more about Digital Next.
The 2014 Nexties honorees will be announced at this event!
The great lineup of speakers include:
Nina Simon – Executive Director at the Santa Cruz @Museum of Art and History
Danny Keith – Director, Corporate Sponsorships at Santa Cruz Warriors, Executive Director Grind Out Hunger
Cliff Hodges – Founder & CEO – Adventure Out LLC, CrossFit West LLC
Monica Martinez- Executive Director at Homeless Services Center
Darrin Caddes – Vice President of Corporate Design at Plantronics
Analicia Cube – Co-founder,Take Back Santa Cruz
Megan Joseph – Director of Community Organizing, United Way of Santa Cruz County
Jacob Martinez – Project Director at ETR Associates, Founder of Digital NEST
Nick Gallant – California-based singer/songwriter
Get your tickets now. Join Event Santa Cruz founder, Matthew Swinnerton, and listen to some of the most interesting movers + shakers in Santa Cruz.
###
Sara Isenberg publishes Santa Cruz Tech Beat for the benefit of the extended business and technology community. When she is not volunteering her time for the tech scene, Sara makes her living by managing software projects, web strategy planning, and providing development team services (including account management, vendor management, strategic partner management, beta project management, referrals to qualified technical team members, and more). Please visit her website: Sara Isenberg Web Consulting & Project Management, or contact Sara by email if you have any project management, account management, or Development Team leadership or service needs.
Tagged Event Santa Cruz, The Nexties