Companies
Mobile App Tours Connecting People to Places
by Julia Gaudinski
Founder, Mobile Ranger App

Mobile Ranger Apps show you how natural history and human history combine to shape the way the landscape looks today. It is like taking a knowledgeable and fun park ranger with you! We hope these one-of-a-kind tours will help you connect to a place — instead of just visiting it.
As a UC Santa Cruz college student in the late 1980s, I frequently drove from my mom's house just north of San Francisco to Santa Cruz along Highway 1. The drive is stunning. As I studied geology, what I saw on the drives slowly gained more meaning. Ah, those funny slumping pockets of earth — I see them everywhere now — those are landslides. The flat staircase-like mountains — those are ancient ocean floors uplifted by the San Andreas Fault system. I could now see, understand, and interpret the forces of time, water and energy. They work predictably, and create awe-inspiring landscapes.
I ended up becoming an academic studying earth science, so I guess it's a given that I think landscapes are cool. But the truth be told, I am just generally an informationophile. I like to know detailed information about a place, either close to home or when I travel. How come this gorgeous spot is still undeveloped and not a shopping mall? Are these plants native? What's up with those "I like Dogs and I Vote" bumper stickers?
But how many people are like this?
My new start-up "Mobile Ranger" is banking on the notion that there are many. Mobile Ranger makes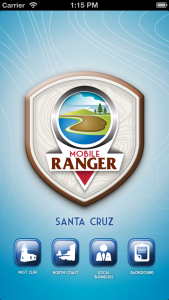 mobile apps that are self-guided tours that focus on the natural and human history of interesting places. My vision is to be in on the early stages of what I see as the coming wave of outdoor mobile-based interpretation of  "what you see in front of you," and make it a profitable business.
In 2012, to create Mobile Ranger, I largely abandoned my career in academia and coerced my husband, Jim Whitehead, UCSC professor of Computer Science, to rediscover his love of coding.  I created the content and he did the programming for our first app "Mobile Ranger Santa Cruz." The original plan was to figure out what we were doing with an app close to home. Then I would get to travel and make more apps for places with larger markets like National Parks.
Crowd Sourcing for Content Generation
This plan totally changed as I learned things that probably seem self-evident to any seasoned techie.  First, to create quality content takes a huge amount of time (money). Second, people just do not want to pay for apps, despite totally reasonable rationalizations to the contrary. Luckily, I also discovered something else I hadn't known. There are legions of small municipalities, museums, naturalists and non-profits out there who have already spent years compiling information about their local places. Most would love their work to be available on a mobile device, but lack the funds or technical ability to make it happen.
Mobile Ranger now has a new business model built on crowd sourcing content generation to "content makers," who already have the expertise and commitment to the dissemination of information about their local area. Our second app, will be free and it will test our new approach. It is being made in collaboration with UC Santa Cruz, the City of Santa Cruz, and local non-profits. To date, it has validated the idea that quality content can be provided by unpaid "content makers." People in fact got very excited about making a mobile app about a subject that speaks to their passion. We had eight people volunteer from 5-50 hours each in research, writing, editing, or photographic contributions. They even networked and got their friends involved.
Inspiration from Locals
Almost daily I ask myself, "Am I insane to give up my real career?" I got a PhD because I wanted to be an expert in my field, and now I am a total newbie in the crazy, lightspeed world of tech. It's a good thing I live in Santa Cruz where risk taking is the norm and is supported. I found local risk inspirationals as subjects of my app content: Jack O'Neill who I quote as saying "Follow you bliss!" and Randall Graham who took the 28th largest wine producing company from 450,000 cases down to only 35,000 cases in a years time, just to make wine he liked better.
Support from the Santa Cruz Tech Ecosystem
Support for the tech/business side has come from Doug Erickson and the Santa Cruz Tech Meetup where I can pitch my idea and get great feedback like "uhm, your app needs to be free," and TechRaising that holds informational talks where I can hear Steve Blank say "Don't be an idiot, make damn sure you have product market fit!!" Steve's September, 2013 talk at the TechRaising Meetup in fact motivated me to go out to Lighthouse Point with donuts and survey people. Thankfully, the results were encouraging.
###
Sara Isenberg publishes Santa Cruz Tech Beat for the benefit of the extended business and technology community. When she is not volunteering her time for the tech scene, Sara makes her living by managing software projects, web strategy planning, and providing development team services (including account management, vendor management, strategic partner management, beta project management, referrals to qualified technical team members, and more). Please visit her website: Sara Isenberg Web Consulting & Project Management, or contact Sara by email if you have any project management, account management, or Development Team leadership or service needs.
Tagged Julia Gaudinski, Mobile Ranger