Featured
Dear Rachel and Geraldine: I'm sorry I can't go to spin class. I just won the Nobel Prize.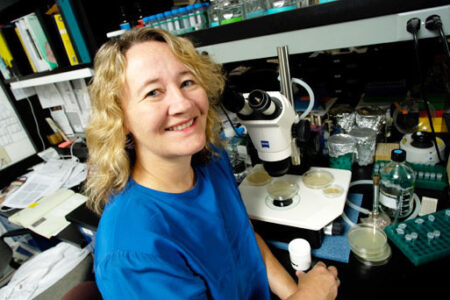 By Lisa Renner
UC Santa Cruz
March 25, 2021 — Santa Cruz, CA
(Photo above: Greider in her laboratory. Credit: Will Kirk)
Creating change, from the molecular level up
UC Santa Cruz welcomes eminent biologist and Nobel laureate Carol Greider, known for her pioneering work on telomeres and for her powerful advocacy for increasing women and minorities in the sciences
It was 5:15 a.m. when Carol Greider got the unforgettable call.
The year was 2009.
"I was awake and I was getting ready to go to a spin class because I exercise early in the morning," said Greider, who recently joined the faculty at UC Santa Cruz as a distinguished professor of molecular, cell and developmental biology. "It was a surprise that the phone rang. I heard this Swedish accent. My brain stopped and my heart was in my throat."
After she hung up the phone, she sat down to write an email nobody has ever written before or since: "Dear Rachel and Geraldine: I'm sorry I can't go to spin class. I just won the Nobel Prize."
Greider, molecular biologist Elizabeth Blackburn, and biologist Jack Szostak shared the 2009 Nobel Prize for their work on how chromosomes are protected by telomeres, which maintain the ends of chromosomes, and the discovery of telomerase, the enzyme that maintains telomeres' length.
The enzyme telomerase that Greider discovered has two important implications for human health—age-related degenerative diseases and cancer. When telomeres aren't maintained well enough, cells die, which contributes to bone-marrow failure, lung disease, kidney disease, and others diseases. When telomeres are too well maintained, cancer cells can grow.
The prize enabled single mother Greider, her two children, then 10 and 13, and several other relatives and friends to take a memorable trip to Sweden to meet the king and attend lavish parties. Throughout the visit, Greider attracted a lot of attention with people frequently coming up to her asking for autographs.
"My son Charles said, 'Stop signing these autographs. The price is going up on eBay,'" she recalled.
She joins a UCSC department strong in areas that mesh well with her research, including RNA biology, genomics, cancer biology, and stem cell biology, and her colleagues felt her impact the moment she arrived on campus.
Continue reading here: https://magazine.ucsc.edu/2021/03/creating-change-from-the-molecular-level-up/
###