Events
Celestial heights and oceanic depths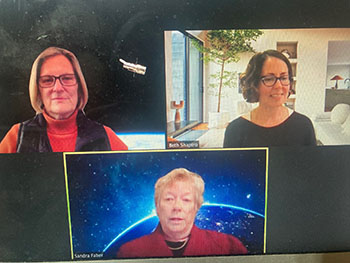 By Dan White
UC Santa Cruz
March 16, 2021 — Santa Cruz, CA
Two interactive, high-tech floors in the newly renovated Science & Engineering Library have been named in the honor of these distinguished science pioneers: the Sandra M. Faber Floor (third floor) and the Kathryn D. Sullivan Floor (first floor), thanks to naming gifts from donors Claudia and Alec Webster
(Photo above: From left, clockwise: astronaut and oceanographer Kathryn Sullivan, Ecology and Evolutionary Biology Professor Beth Shapiro, and Professor Emerita of Astronomy and Astrophysics Sandra Faber. Source: UCSC website)
UC Santa Cruz Professor Emerita of Astronomy and Astrophysics Sandra Faber, and astronaut and oceanographer Kathryn Sullivan (Cowell '73, Earth sciences) met for a good-humored, informal, and revelatory "fireside chat" this week.
The event was a high-profile way to publicize the naming of two interactive, high-tech floors in the newly renovated Science & Engineering Library in their honor: the Sandra M. Faber Floor (third floor) and the Kathryn D. Sullivan Floor (first floor), thanks to naming gifts from donors Claudia and Alec Webster.
During their far-ranging discussion, Faber talked about the ins and outs of repairing the Hubble telescope, and Sullivan discussed the fine art of space walking and descending to the ocean's deepest depths; she's the first woman to reach the Challenger Deep, a spot seven miles beneath the ocean's surface. She's also the owner of three Guinness World Records titles, including one for being the first person to visit both outer space and the deepest point on Earth.
But most importantly, the talk, moderated by Ecology and Evolutionary Biology Professor Beth Shapiro, offered endless inspiration for women in the audience who are pursuing STEM careers.
"There's no job that a woman has not done in the astronaut corps now from Space Station command to Space Shuttle command," noted Sullivan, who noted that astronaut Peggy Whitson spent an astonishing 665 days in outer space, holding the U.S. duration record for time in orbit.
A library for the future
The Websters—major UC Santa Cruz donors—had a particular vision for this most recent gift.
"It was the Websters' wish to name the library floors in honor of these women who broke glass ceilings before the term 'glass ceiling' even became popular," said University Librarian Elizabeth Cowell during the fireside chat. "Our amazing honorees and speakers Sandra Faber and Kathryn Sullivan forged an incredible path in male-dominated professions years ago."
This project is part of a renovated Science & Engineering Library that hosts advising, tutoring, and student support services in a place where students already gather, making it easier to find mentorship and take advantage of student success resources alongside library services, in addition to state-of-the art technology, Cowell said.
Two separate celebrations of these honors will be held in person after COVID-19 restrictions have been lifted.
The Sandra M. Faber Floor floor renovation project was finished early in the winter quarter of last year. The project expanded seating capacity to 440 in a mix of individual and group study spaces, and improved access to power and the wireless network.
Students were using and enjoying this interactive space for a brief period before the COVID-19 pandemic hit. The floor includes a large "laptop bar" with lavish backdrops featuring detailed photographs of space. The Kathryn D. Sullivan Floor will have an oceanographic theme. The centerpiece of the floor will be the Digital Scholarship Innovation Studio (DSI), where students will have access to a broad array of 3D creation tools and expert assistance.
The library will also expand its physical collections capacity by about 30% by installing new compact shelving similar to what has been in McHenry Library since 2008. The project is currently under development, and is expected to be ready for use by this upcoming winter quarter.
Highs and lows
The talk was a rare opportunity for audience members to ask these distinguished speakers questions about their long careers. One of the Zoom attendants got right to the point: How would Sullivan compare and contrast space walking to exploring the ocean's deepest depths?
Sullivan became the first woman in the United States to walk in space in 1984. In 2020, she became the first woman to reach the deepest point in the ocean.
Continue reading here: https://news.ucsc.edu/2021/03/faber-sullivan-fireside-library-feature.html
###
Tagged astronomy, UC Santa Cruz