Companies
Startup Challenge Ideas Power Tri-County Entrepreneurship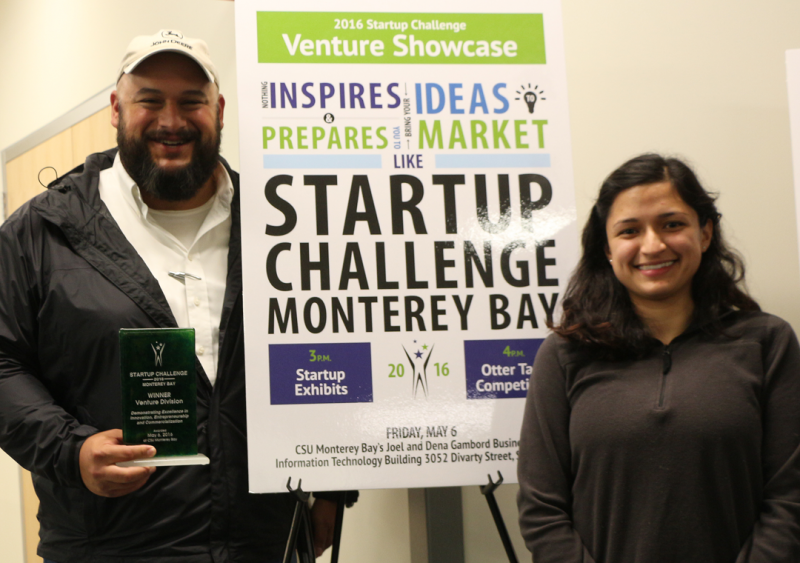 By Jan Janes
Special to Santa Cruz Tech Beat
May 9, 2015 — Seaside, CA
(Photo above: Patrick Zelaya and Jessica Gonzalez, developers of the winning Venture division entry Heavy Connect, software for farmers that uses mobile devices to manage employees and equipment. Credit: Jan Janes Media)
More than two dozen Central Coast entrepreneur finalists with Startup Challenge New Venture Monterey Bay finished a six-week sprint last Friday at California State Monterey Bay (CSUMB), showcasing their new ideas to judges in the "Otter Tank."
The Central Coast teems with entrepreneurs looking through a new lens to solve diverse problems.
From honey farms with bees pollinating our food and water reclamation systems preserving a vital resource to mobile apps streamlining grower workflows and systems monitoring underwater "weather," each team applied technology and entrepreneurship.
Embracing solutions-driven change
Fashioned after the popular reality television series "Shark Tank," participants prepped for months to hone focused, value-driven business ideas into tightly packaged pitches.
Starting in mid-March, tri-county participants drew on mentoring offered as part of the program. They solidified business plans and presentations before pitching to business leader judges. In morning and afternoon sessions, finalists were allotted 10 minutes to articulate the full scope of their plan, then fielded multiple questions.
CSUMB anchors hackathon, startup weekend, venture showcase events
CSUMB business professor Brad Barbeau has been involved with the Start Up Challenge from the beginning, when it was a program of the Marina Technology Cluster. With changes in government funding, the university embraced a critical role to keep it going.
"When a cool idea comes out of the Startup Weekend, they can enter it in the New Venture competition," Barbeau said.
From this year's field of 89 initial entries, 26 finalist teams pitched in the morning competition, and eight teams competed in the final round.
During Startup Weekend in late January, applicants develop and pitch business ideas using a hackathon approach. Many of those ideas and teams formed to participate in Startup Challenge, which includes three divisions: a student division for students working on an idea; a main street division for small business; and a venture division for businesses intending to scale.
One goal of the Startup Challenge is to break down the barrier of wealth
Anyone on the Central Coast can participate, and the most recent competition included business teams from Monterey, San Benito and Santa Cruz Counties.
"We have poor students on financial aid, struggling, and now they enter this competition," said Professor Eric Tao, with CSUMB's School of Computing & Design and founder and director of the Institute for Innovation and Economic Development.
"They get advised and mentored by multi-million dollar entrepreneurs, and that encourages them and inspires them."
Student division
Winner Tinker, developed by a team of CSUMB students, is an online, interactive and intuitive platform designed to make hardware learning easy.
"This is really something amazing they're having at this school, and it's something to put CSUMB on the map," said Brandon Woodard, a Tinker teammate. "I had a blast, I learned so much about startups and about business in general. I'll always remember this."
Runners up competing as 2016 finalists in this division
LOGiX is an online tutoring program for grades 6-12.
Community Fresh Markets, provides farmers market grade produce to consumers on a weekly basis using a subscription-based business model to track how much to order, and to work with area farms in the area of order fulfillment.
Main Street division
Winner Carmel Honey Company, a family-operated business with Carmel Middle School seventh grader Jake Reisdorf as president, aspires to bring the best, real honey to area buyers.
Runner up competing as 2016 finalist in this division
Greenwise Water & Landscapes, which designs and installs residential and commercial water conservation systems.
Venture division
Winner Heavy Connect, a runner up in 2015, founded by Patrick Zelaya and Jessica Gonzalez, offers software that simplifies and automates many of the activities that consume a farmer's day, utilizing mobile devices to manage employee time and track equipment.
Runners up competing as 2016 finalists in this division
SCOOTScience, building an ocean observing business using fleets of autonomous underwater vehicles to deliver data, "underwater weather," from important coastal regions directly to marine stakeholders.
Valent Power, manufacturing the first commercially viable electric vehicle fast charger.
Startup Challenge enlists the support of dozens of community and business leaders to volunteer as judges, mentors and committee members.
Looking to the future
"Our vision is to become the collaborative agency for institutions in the Monterey Bay," said Dr. Shayam J. Kamath, CSUMB dean of the college of business, "building a tech ecosystem and also a business ecosystem."
CSUMB has launched a new website startupmontereybay.org to keep area technologists and entrepreneurs informed of Startup Challenge news. The university will offer code boot camps in the summer and reprise the popular hackathon in the fall, rebooting the creative process.
"From middle school and college students to fresh graduates, we need you," said Tao.
###
Jan Janes, Communications Director, Web Publisher, Television & Radio Producer, Photojournalist, Social Media Architect, can be reached on LinkedIn.
###
If you wish to republish this article, please follow our Terms of Use.
###
Tagged CSUMB, startup challenge