Companies
Product Update: Manage Quality Assurance with HeavyConnect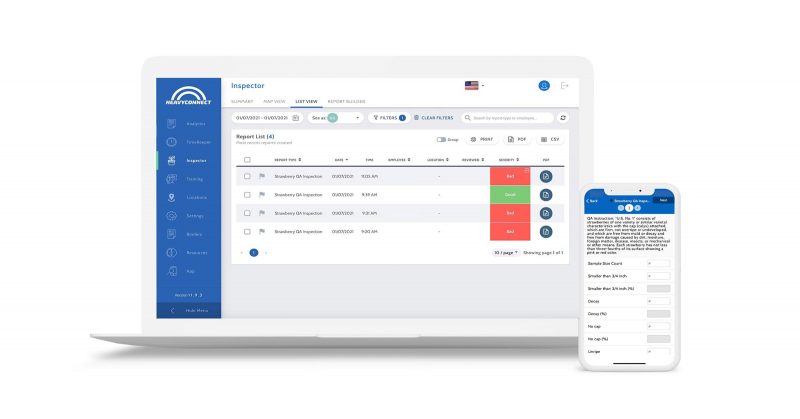 (Source: HeavyConnect blog)
February 9, 2021 — Salinas, CA
In 5 years of providing compliance solutions for the agriculture industry, one common request we've heard is an easier way to manage quality assurance (QA) and quality control (QC) programs. Our customers want a way to document their QA results, get automatic alerts, and analyze data. We are excited to announce that our users now have access to new features that make conducting QA and QC with the HeavyConnect app and dashboard simple.
Here's how HeavyConnect can facilitate your QA program to help you ensure that the food you produce, process, and store is always high quality and safe.
1. Access forms based on USDA guidelines or customize your own
When conducting a product inspection in a field or facility, you can use any mobile device with the HeavyConnect app to fill out a report. Access a library of pre-built checklists for certain crops, or use our Report Builder to create your own forms based on your standards or buyer requirements.
When building forms, you can choose between many question types to capture the data you need.
Create fields with "Yes/No" questions and set the correct answer, so when an incorrect answer is selected it causes the report to fail. For example, you can ask if a sample is free of dirt and evidence of insect intrusion. If a user answers "No" the report can automatically fail.
Set up a report total score using different criteria to determine the overall quality of the inspected sample.
Set up a form to do automatic calculations (read more about this feature below).
2. Let the app do the math for you
During an inspection, simply enter a sample size and then how many products in that sample don't meet the standards. The app will automatically calculate the percentage of defects. For example, you can collect percentage data on:
Continue reading here: https://blog.heavyconnect.com/quality-assurance
###
Tagged HeavyConnect, Salinas