Companies
Dennis Donohue: 2021: AgTech Shifts to More Result-Oriented Posture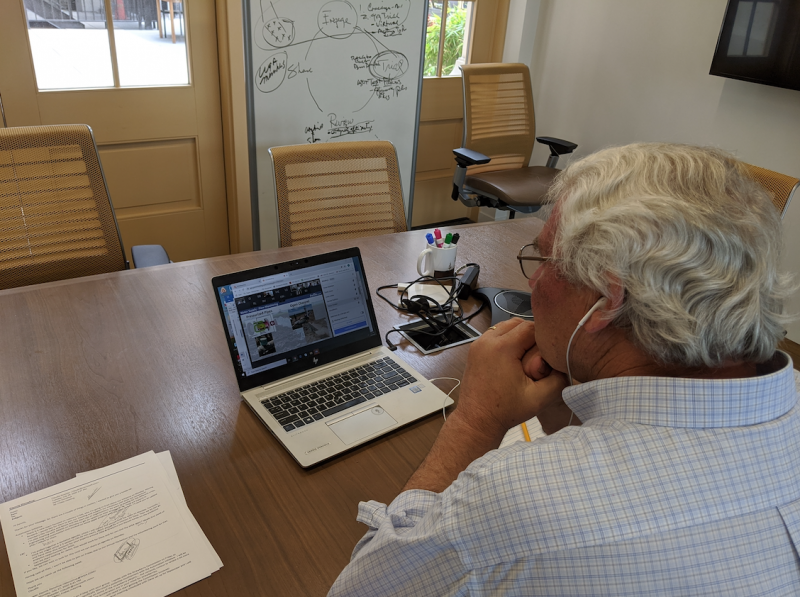 By Dennis Donohue
Director, Western Growers Center for Innovation & Technology (WGCIT)
Special to Santa Cruz Tech Beat
January 5, 2021 — Salinas, CA
(Photo above: WGCIT Director Dennis Donohue conducting a virtual Grower Trial Network session to connect farmers to agtech startups. Contributed)
Along with enthusiastically welcoming 2021, we also will be embracing bigger and better aspects of the agtech ecosystem.
When I served as Mayor of Salinas, the concept of "agriculture technology" was just starting to get legs. Luckily, Salinas (aka "Salad Bowl of the World") was a breeding ground for agtech—from drones in the fields to robots packing lettuce—so I was able to see, first hand, the initial development of the agtech industry. Now, as the director of Western Growers Center for Innovation & Technology, I have a hands-on role in shaping the direction of this critical sector by helping both farmers and agtech entrepreneurs capitalize on opportunities that benefit the industry as a whole.
The year 2020 brought unexpected opportunities for growth for all parties across the agtech spectrum, including start-up companies, farmers, venture capitalists and incubators. Together, we can build upon these opportunities in 2021 to further accelerate the production of technology to address agriculture's most pressing issues.
Below are the top 2021 agtech opportunities:
1. AgTech is shifting to be more results-oriented.
Though progress in agricultural technology is not an overnight success, COVID-19 has accelerated the desire for more immediate results. When the COVID-19 pandemic struck and hosting in-person meetings was ill-advised, entrepreneurs found it increasingly more difficult to get meetings with potential investors and clients. In 2020, innovation continued, but there was a mindset change. Growers had less time, higher costs and changing market conditions. The result was a more "results-oriented" mindset. Growers had less time to look at as many new things as they had in the past and became increasingly focused on addressing immediate needs. Something entrepreneurs should focus on this year: their elevator pitch to the ag community!
2. The world is getting smaller. Opportunities for growth are getting bigger.
Though an unexpected shift, the quick adaptation to virtual meetings due to COVID-19 introduced a global connectivity element for agtech start-up companies. When video conferencing became a common practice, the floodgates to broader reach were blown open and new global business opportunities in emergent economies were now an option. Today, agtech startups in California (and throughout the nation!) now have access to an unrivaled number of companies worldwide and can pitch to growers across the nation and in other parts of the world. 
3. Ag needs the workforce of tomorrow. And colleges and universities are helping meet that need.
In my last blog for Santa Cruz Tech Beat, A New Kind of Worker, I briefly spoke about the looming issue of finding tomorrow's workforce. Essentially, we need a workforce that has the skills and knowledge to masterfully navigate up-and-coming technology on the farm. In 2020, many of the community colleges and universities we work with begun addressing the curriculum needs that will be necessary to ensure agriculture has the future workforce it needs; this is something that is absolutely crucial for our success. It is also going to be critical that teachers have the resources they need as well as become familiar with new developments in technology so they can prepare tomorrow's workforce. You should expect to see more focus in this critical area by the education community this year.
4. We need to automate harvest. Now.
Labor costs are rising. Regulations are continually increasing. Our current workforce is aging. Agriculture has been in a chronic labor shortage for a decade now, and if we don't take proactive steps to aid harvest, our food supply will be in jeopardy. The Innovation Team at Western Growers recognizes the challenge the industry faces and will be announcing a major initiative to accelerate solutions in this area shortly. Stay tuned for a major announcement in February!
5. To scale, startups need to join a network.
With access to almost every major grower in California and Arizona, Western Growers Center for Innovation & Technology is the landing spot for startups. Our tech center is dedicated to serving both farmers AND agtech startups, and since 2015, we have offered unmatched resources and opportunities for startups to scale. For one, our Grower Trial Network accelerates and eases the trail and evaluation process. Going virtual has allowed us to provide startups with the unique opportunity to speak to growers who previously would not have been able to attend in-person pitches due to conflicting schedules. Along with pitching their products, the startups also have the opportunity to receive feedback on their business model and refine their company as a whole.
Though 2020 was a challenging year for most, I can't help but look back with gratitude for the growth opportunities it provided us. I am looking forward to using the lessons learned last year to help build an even stronger agtech ecosystem.
###
Tagged agtech, Dennis Donohue, Salinas, Western Growers