Companies
Paystand: The Year that Change the World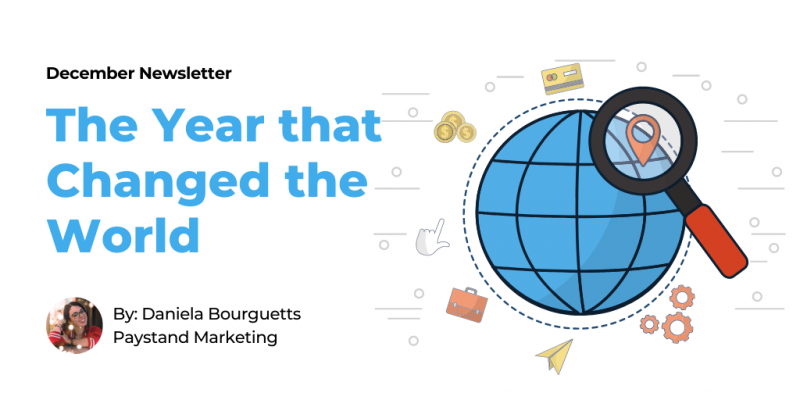 By Daniela Bourguetts
Paystand
December 31, 2020 — Scotts Valley, CA
The most important lessons we learned in 2020 to give you a roadmap and a head start on digital transformation in finance in 2021.
What a year it's been! We witnessed almost every economic scenario possible as businesses changed their financial strategies to cope with unprecedented challenges. While some were able to embrace opportunities to improve their operations and thrive in the face of uncertainty, others were forced to cut back on staff and budgets to survive the recession. Initially, this difference had more to do with the random chance of how various industries were affected by the pandemic. But as the year wore on, the difference between thriving and just surviving had more to do with strategic choices and technology investments.
In finance specifically, 2020 illustrated that more and more businesses are relying on contactless payment alternatives for modernizing their financial operations. Virtual cards for B2B transactions are helping companies get better control of their expenses. Native platform payments are the next big step for owning the payment process, and paper-based methods are starting to see a decline in favor of digital alternatives.
While the effects of the COVID-19 pandemic are still shaping the state of the economy, we no longer have any doubt that businesses can strengthen their financial strategies for healthy cash flow, incentivizing team resiliency, and process automation in finance.
So, for our final newsletter of 2020, we pulled together the most important lessons we learned during the last year to give you a roadmap and a headstart on digital transformation in finance in 2021. From AR automation to B2B payment tendencies that can help your businesses get (and stay) ahead, read on.
Lessons Learned from 2020
In April, businesses were caught in an unexpected tempest, trying to survive under the pressure of the lock-down. Consumer payments platforms were in more demand than ever, as people started switching to digital methods to keep their families safe while restocking on daily needs. But the same could not be said for B2B transactions that were still largely made via slow, outdated paper checks and subject to inefficient, manual processes
Continue reading here: https://www.paystand.com/blog/09-the-year-that-changed-the-world
###
Tagged PayStand