Featured
City of Santa Cruz to Launch MyCityofSantaCruz Portal Oct. 1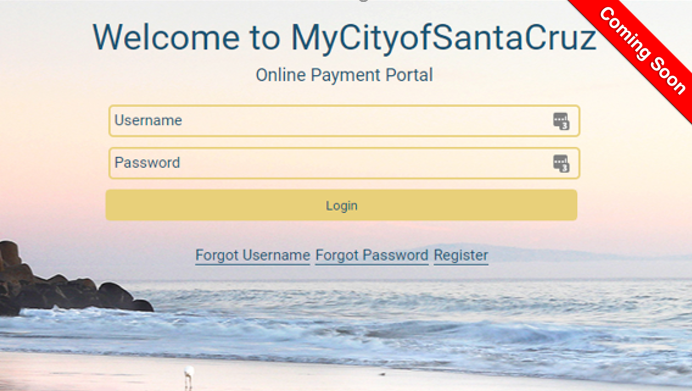 (Contributed)
September 29, 2020 — Santa Cruz, CA
The City of Santa Cruz is pleased to announce the launch of MyCityofSantaCruz, a simple, secure and consolidated online bill pay portal for City of Santa Cruz services.
Starting Oct. 1, 2020, City residents and businesses can make payments quickly and conveniently from their computer or mobile device for a range of services, including Santa Cruz Municipal Utility (SCMU) bills, business license and zoning clearance applications, business license renewal, and residential rental inspection services. Users are also able to support select City programs with donations through the portal. 
MyCityofSantaCruz enhances the standard online bill pay experience with these new features:
Multiple payment options – The new system allows for multiple credit/debit cards or e-checking accounts to a profile and pay how the customer prefers. Customers can even "split the bill" between two or more payment types.
One payment, multiple accounts – Pay multiple bills with a single payment. If you have multiple accounts, users can now pay all account balances in one fell swoop.
Manage profile users – delegate authorized users to view and pay a bill. This is especially helpful in shared housing situations or for businesses with multiple accounts.
E-checking – Business and residential customers can set up online payments to draw from a checking account. (Coming in Nov. 2020)
More than 15,000 of the 38,000 SCMU account holders currently pay their bills online. Any customer currently using online utility billing will have their user preferences moved to MyCityofSantaCruz. Still, they will need to access the new site and create a new password to access their profile.
In addition to adding a convenient, centralized channel for City service users to complete their business online, the new portal also adds significant efficiencies and cost-savings for internal City processes, particularly when many public-facing counters are closed due to the COVID-19 pandemic. What's more, the increased payment volume achieved by consolidating payment processing will save the City thousands of dollars in annual payment processing fees.
As the City adds more online services, MyCityofSantaCruz will be residents' single location to manage accounts, pay bills, and more. Access the new portal Oct. 1 at cityofsantacruz.com/services/pay-online.
###
Tagged City of Santa Cruz